Preschool Farm Stand Gets Second Chance
Forest Park City Council votes in favor of new zoning ordinance, opening the door for neighbors and families to once again purchase fresh vegetables from school's garden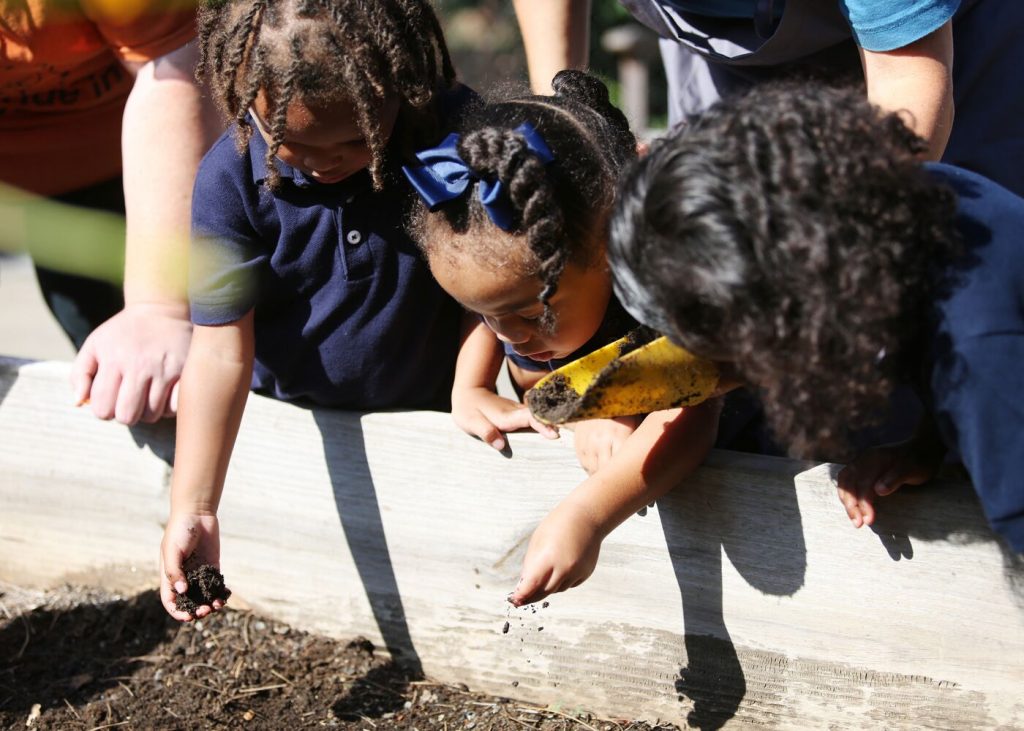 February 18, 2020 -- Forest Park, GA. A City Council meeting held in Forest Park, Georgia on Monday night was a sea of green as parents, children, teachers, neighbors and community members came dressed in various shades of the color to show their support for the Little Lions Farm Stand at Little Ones Learning Center. They were there to urge City Council to vote yes for a new zoning ordinance which would make it possible for their farm stand to be back in business.
The city ordered the farm stand to cease sales last fall due to the fact that the school was located in a residential area not zoned for farm stand sales. Almost overnight, the school gained national media attention – and people from as far away as Australia voiced their concern on social media, urging the city to come to an agreement with the center so that operations could continue.
On February 6, after months of negotiations, school leaders and farm stand organizers took a huge leap towards a lasting solution when the Forest Park Planning and Zoning Commission unanimously passed a new zoning ordinance allowing sales of locally grown produce in residential areas, with certain stipulations. The unanimous decision by the commission made it possible for the vote to be brought to the council. The ordinance was passed with a majority 4-1 vote in favor.
"This vote brings the farm stand one step closer to the day we've been working towards. We feel a tremendous sense of gratitude to everyone who has spoken up on behalf of the farm stand," said Little Ones Learning Center Executive Director Wande Okunoren-Meadows. "Now the real work begins. We're hopeful that a door has been opened to engage with our elected officials on a new level and we welcome opportunities to help further educate them on the benefits of locally-grown food."
Before it can open for business again, the farm stand will have to apply for a conditional use permit. "After we attend two council meetings, they decide if we meet the requirements for the conditional use permit," said Okunoren-Meadows. "Once the city grants it, it stays with the resident or business in perpetuity. There is no fee attached and there is no annual application."
Many organizations and people have voiced their support for the farm stand. Among those in attendance Monday night were two state representatives whose districts include Forest Park, Valencia Stovall (D-74) and Sandra Scott (D-76); School Board Member Judy Johnson (D-7); Captain Planet Foundation; Wholesome Wave Georgia; Small Bites Adventure Club; and a professor with students from Turner Environmental Law Clinic at Emory University School of Law.
Support also comes from Atlanta nonprofit Food Well Alliance, a collaborative network of local food leaders that has provided the learning center with grant funding for their food and wellness initiatives. Last year, the Alliance launched a new City Agriculture Planning process that is currently being piloted in the City of East Point. "As our cities grow and redevelop across metro Atlanta, local governments need more tools and resources to better prioritize urban gardens and farms in their policies, zoning and plans. Forest Park is a great example of the very real need for a platform that empowers city leaders to work directly with local growers and residents to develop inclusive policies that make it easier for communities to access fresh, healthy food," said Food Well Alliance Executive Director Kim Karris. "Our goal is that all 54 cities in our metro Atlanta service area will develop a City Agriculture Plan, so that we may ignite a regional coalition that begins working together to build thriving gardens and farms for our communities."
Little Ones Learning Center exists to provide a safe, developmentally appropriate environment for preschool and school age children in Forest Park, GA. Since 1994, our Quality Rated and NAEYC accredited school has provided a stimulating early care and education experience which promotes each child's social/emotional, physical and cognitive development. Little Ones Learning Center is dedicated to helping children and families learn about healthy food choices through their Jazmin Greene Community Garden. The garden not only provides fresh vegetables for the children at Little Ones, but also teaches families about farming, growing vegetables and why healthy food choices are important. www.littleoneslearningcenterga.com
Food Well Alliance is a collaborative network of local leaders working to build thriving community gardens and urban farms that enhance the health, vitality, and resilience of communities across metro Atlanta. The creation of Food Well Alliance was made possible through funding from our founding benefactor, the James M. Cox Foundation and through the vision of Jim Kennedy and Bill Bolling. Together, they saw an opportunity to connect members of Atlanta's local food movement to collectively build a healthier community. Food Well Alliance exists to bring this vision to life. www.foodwellalliance.org
###