Gone in 60 Seconds…
Bratoxinsta® Wrinkle Serum Delivers Immediate Results with High Concentration of Key Ingredients from the Amazon.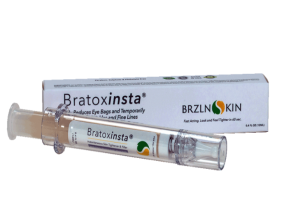 When it comes to banishing wrinkles and crow's feet, an immediate result is where it's at. Gone are the days of waiting 8 to 12 weeks for improvement. People want noticeable wrinkle fading within minutes. They want to feel it working and look in the mirror as the change is happening. Brazilian Skin's line of creams and serums delivers exactly that. It combines science and ingredients from the Amazon rainforest to deliver dermatologist-approved topical age reversal with effects similar to Botulinum Toxin, aka…Botox.® Wrinkles are gone within minutes without needles. Brazilian Skin offers a type Botox result without the appointments, expense and needles. Dr. Vishal Kapoor, a Beverly Hills, CA Board Certified Plastic Surgeon and Medical Advisor to Brazilian Skin explains how this skincare line really delivers results quickly.
Bratoxinsta® The 60 Second Smoother of Lines and Wrinkles
Within 60 seconds of application, the state-of-the-art minerals and antioxidants found in this serum gets to work fast to plump up skin, tighten and smooth out wrinkles. With clinically dosed concentrations of purified and refined clay, Peptides, Euterpe Oleracea (Acai) Fruit Extract, Perilla Frutescens (Chinese Extract), Acai Palm Tree Extract, Chinese Basil Plant's Rosmarinic Acid, known for its ability to plump up tired skin; Bratoxinsta offers the immediate gratification that the countless other creams and serums are missing.
"Women are always telling me that they spend money on creams and serums that do nothing. They play the waiting game and get frustrated as they throw away another cream or serum. With Bratoxinsta, there's no waiting. You're getting the highest amounts of these key ingredients possible and when working in concert with one another results are instantaneous," explains Dr. Kapoor.
The powerful combination of stem-cell, antioxidants from Açai and peptides help to improve long-term appearance of wrinkles and will address sun damage and other issues with skin texture and tone. Some of Bratoxinsta's ingredients will help to tighten the skin on the surface, helping to smooth fine expression lines and blur the appearance of wrinkles. Once applied, the powerful active ingredients will start working on getting your skin smoother, tighter, and more youthful-looking with every use.
Simply dispense a small amount on your fingertip and gently feather it over any wrinkles and expressions lines. Apply to a clean face, allow 60 seconds for effects to begin before applying makeup. "A little goes a very long way with Bratoxinsta. One or two drops on the fingertip will do it. You can actually watch it working in the mirror. This is what sets it aside from other creams touting themselves as 'Botox in a Bottle,'" says Dr. Kapoor.
Main Ingredients… A Deeper Look
Magnesium Aluminum is a naturally occurring mineral created purified and refined clay, that tightens and smooths the appearance of under-eye puffiness, sagging, and fine lines.
Peptide Complex
Peptide Complex works to smooth away the look of wrinkles and expression marks.
Stem Cell Complex (Euterpe Oleracea (Acai) Fruit Extract, Perilla Frutescens (Chinese Extract). Native to the Amazon Rainforest, the Acai Palm Tree is renowned its ability to thrive in harsh conditions. The Chinese Basil Plant is rich in Rosmarinic Acid, which is known for its ability to plump up tired skin. These 3 antioxidants help to defend against oxidative stress by effectively disarming radicals.
"Stem cells slow down aging by defending skin against stress and serving as an internal repair system. Stem cells divide without limit allowing them to replenish other cells or migrate to damaged areas to repair tissue," explains Dr. Kapoor.
Chondrus Crispus (Seaweed) Extract Also known as Irish Sea Moss, Chondrus Crispus contains a hydrating, nutrient-rich blend of vitamins and trace minerals such as sulfur, iodine, magnesium, and selenium.
The Bratoxinsta formula also contains stem cells from the Acai Palm Tree, Basil Plant, and White Oak Plant. In addition, 6 bioactive peptides help smooth the appearance of existing fine lines and wrinkles by supporting the proteins that weaken with age. These active ingredients work synergistically with the peptides to deliver vital phytonutrients and antioxidants.
What is the recommended age group for Bratoxinsta?
Bratoxinsta is suitable for all age groups. For more mature skin, its innovative formula can help reduce the existing signs of visible aging immediately, while for younger skin, it can help prevent and delay the onset of fine lines and wrinkles. "Women will see significant and rapid improvement to fine lines, wrinkles and sagging. A woman in her 20's and 30's will be able to take a preventative approach to their skin care by maintaining tautness and wrinkle free texture longer," says Dr. Kapoor.
About Dr. Vishal Kapoor, Board Certified Plastic Surgeon, Medical Advisor to Brazilian Skin
Dr. Vishal Kapoor is a Southern California native who received his medical degree from Tufts University School of Medicine in Boston, where he graduated with the highest honor, Alpha Omega Alpha, putting him in the top 10% of his class. He then went on to complete a rigorous six-year residency in the prestigious combined General and Plastic Surgery Program at The University of Washington in Seattle, one of the nation's finest programs in Plastic Surgery. Given his desire to further hone his skills in Aesthetic Plastic Surgery, Dr. Kapoor opted to pursue additional training. His practice is based in Beverly Hills, California