Hey guys I wanted to share this yummy recipe for a healthy salad! Give it a try and let me know how tasty it was!!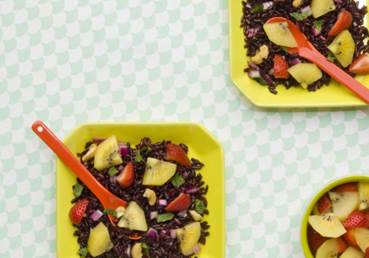 #Zespri4Life Black Rice Salad with Kiwifruit and Cashews
Prep time: 15 minutes
Start to finish: 15 minutes
2 tablespoons lemon juice
2 tablespoons olive oil
2 teaspoons honey
1 teaspoon Dijon mustard
1/2 teaspoon salt
1/4 teaspoon pepper
1 clove garlic, finely chopped
2 1/2 cups cooked and cooled black or brown rice
2 Zespri SunGold Kiwifruit, peeled and cut up
1 cup quartered strawberries
1/4 cup chopped red onion
2 teaspoons chopped fresh mint
1/3 cup salted cashew pieces
In small bowl, whisk together lemon juice, olive oil, honey, mustard, salt, pepper and garlic. In large bowl, stir dressing into rice. Stir in remaining ingredients except cashews. Cover and refrigerate up to 2 hours before serving to allow flavors to blend. Stir in cashews just before serving.
6 (3/4-cup) servings
*1 cup uncooked black rice yields 2 1/2 cups cooked rice.
Recipe tip: A serrated peeler works best for peeling kiwifruit.
Serving Size: 1 Serving Calories 210 (Calories from Fat 80), Total Fat 9g (Saturated Fat 1.5g, Trans Fat 0g), Cholesterol 0mg, Sodium 270mg, Total Carbohydrate 30g (Dietary Fiber 3g, Sugars 7g), Protein 4g; % Daily Value*: Vitamin A 0%; Vitamin C 80%; Calcium 2%; Iron 6%.
*Percent daily values are based on a 2,000 calorie diet.
GIVE IT A TRY! YUM!