Research winner sees early intervention as key to pre-empting mental illness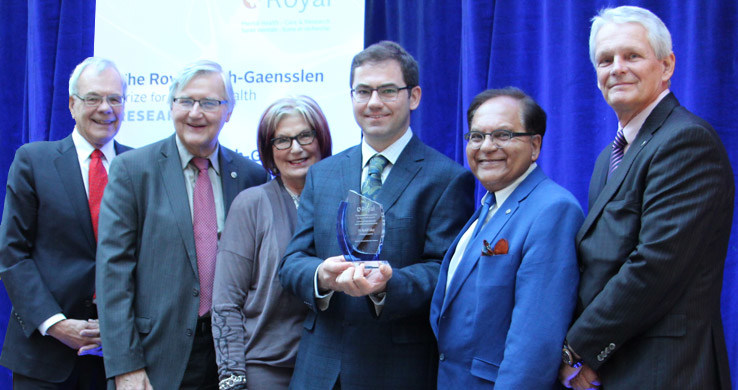 Can we make a difference in a person's lifelong mental health if we reach them early enough?
That's the thinking behind the research being done by Dr. Rudolf Uher, the winner of this year's The Royal-Mach-Gaensslen Prize for Mental Health Research, an annual $100,000 award that celebrates one of the most promising young mental health researchers in Canada and helps fund innovative and progressive studies.
"I am very honoured," said Dr. Uher today at the announcement in the Winter Garden of The Royal Ottawa Mental Health Centre. "This prize will be instrumental in furthering my research to potentially reduce the development of mental illness through early intervention," he said.
This "groundbreaking" research could have far-reaching impact, said Dr. Chris Carruthers, Chair of the Mach-Gaensslen Foundation. "Nobody has embarked on such a long-term project that could potentially impact the well-being of people all over the world."
Dr. Uher, co-founder of Families Overcoming Risks and Building Opportunities for Well-Being (Forbow.org) and a Dalhousie University professor, believes that if children are given tools to cope with mental illness early on, there's a greater chance to reduce it significantly as they grow up.
His earlier research found that one in three children of parents with existing mental illness, are likely to have a significant mental illness later in life. Because of this "genetic sensitivity," Dr. Uher believes giving children, as young as 9-years-old, the skills to counter issues like anxiety early will provide a solid foundation for them into adulthood.
Dr. Uher is currently conducting research with more than 300 children, monitoring them as they grow up.
"We found that when people were talking about early interventions it was at a point when it was almost already at a full mental illness," Dr. Uher said. "We weren't treating patients early enough. It's much easier to work with anxiety in a 10-year-old, than psychosis in an adult."
"We wanted to do something about it," said Dr. Uher. "It's why I was attracted to early intervention. We literally are one of the first ones trying it."
"Dr. Uher's work has put Canada in a leadership position," said Dr. Zul Merali, President and CEO of The Royal's Institute of Mental Health Research, affiliated with the University of Ottawa. "This is the kind of forward-thinking we need in order to find real and meaningful solutions to mental illness."
Louise Bradley, President and CEO of the Mental Health Commission of Canada, presented the prize to Dr. Uher.
"Research tells us that psychotherapies and clinical counselling are cost effective, and improve outcomes for many people living with mild to moderate depression and anxiety," says Bradley. "I congratulate Dr. Uher on his important work, which strengthens the case for improving access to services – especially among children and youth – and highlights the need for them to be woven into the public healthcare system."
Over the course of the next year, Dr. Uher will be doing lectures at several universities across the country. He will also be hosting a live chat on Facebook for those interested in discussing the concept of early intervention.
The Royal-Mach-Gaensslen Prize for Mental Health Research was established in early 2015 with a $1 million gift to The Royal from The Mach-Gaensslen Foundation of Canada. This is the second time the annual prize has been awarded.
More information about the prize winner is available at www.theroyal.ca.
About The Royal
The Royal is one of Canada's foremost mental health care, teaching and research hospitals. Its mandate is simple: to help more people living with mental illness into recovery faster. The Royal combines the delivery of specialized mental health care, advocacy, research and education to transform the lives of people with complex and treatment resistant mental illness. The Royal's Institute of Mental Health Research is proudly affiliated with the University of Ottawa. The Royal Ottawa Foundation for Mental Health raises funds that support The Royal's work. The Royal places a sharp focus on awareness building through the You Know Who I Am campaign and public education initiatives like Conversations at The Royal and Is It Just Me? Conversations about Youth Mental Health.
About the Mach-Gaensslen Foundation
The Mach-Gaensslen Foundation of Canada honours the lives of Vaclav F. Mach and Dr. Hanni Gaensslen by supporting research related to the fields of cardiology, oncology, and psychiatry. The foundation supports student research at Canadian medical schools. The grants not only enable students to conduct medical research during their time at university, but also encourage them to make research an ongoing part of their careers.