Robotics Epicenter Shifts from Japan to the United States in the Global Healthcare Industry
United States emerging as the development and application hub for both industrial and service robots, finds Frost & Sullivan's Transformational Health team
The pressing need to streamline workflows, improve the quality of healthcare, and provide round-the-clock monitoring for the growing population of elderly and disabled patients is driving the global care assistant robots market. Expected to grow at an impressive compound annual growth rate of 36 percent between 2017 and 2021, the market encourages technology developers and healthcare providers to collaborate, boosting the adoption of care robots for resolving operational workflow bottlenecks. Declining costs of hardware and robot-enabling software will ensure sustainable market growth going forward, guaranteeing high return on investment (ROI) for early-stage investors.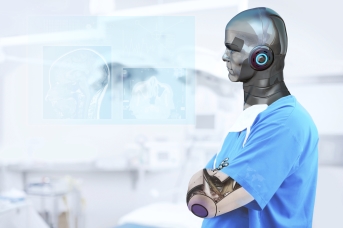 "Robotics, for both industrial and service use, is seeing a regional shift in technology innovation and advanced application; dominance has shifted from the early epicenter in Japan to the United States," said Transformational Health Industry Analyst Harpreet Singh Buttar. "Many start-ups are emerging from Silicon Valley, where the future of robotics is being shaped." 
Global Care Assistance and Automation Robots Market, Forecast to 2021, a part of Frost & Sullivan's Advanced Medical Technologies Growth Partnership Service program, examines the changing footprint of different types of care assistance robots, such as pharma automation, exoskeleton, daily care,  transportation, telepresence, and rehabilitative. The market is expected to generate $4,473.1 million by 2021, with new growth opportunities driven by:
Growing penetration of cognitive computing, mobile app control, and image or speed recognition
Widening scope for consolidation within healthcare segments
Shift to fee-for-value model
Click here for complimentary access to more information on this analysis and to register for a Growth Strategy Dialogue, a free interactive briefing with Frost & Sullivan's thought leaders.
Successful collaboration, seamless integration of robots within hospital environments, and first-mover advantage are the core strategies enabling top contenders such as Cyberdyne, iRobot, Aethon and Swisslog to stay ahead. Two factors restraining widespread adoption of care assistance robots are high costs of ownership and lack of awareness about the reliability of these systems in critical treatment processes such as surgery. Real-life demonstration of the efficiency of these robots is helping address the first issue. Manufacturers and healthcare organizations must work together to develop robotic solutions that will provide users the best benefits at the lowest risks.
"Rise in demand for hospital telepresence robots is principally due to increasing use of telemedicine, whereby off-site physicians communicate in real time with on-site patients through robots," observed Buttar. "As competition is expected to increase in the coming years, finding the right type of partner for the right type of robotic technology in any segment will be crucial to gain early leadership and traction in this market."
About Frost & Sullivan
Frost & Sullivan, the Growth Partnership Company, works in collaboration with clients to leverage visionary innovation that addresses the global challenges and related growth opportunities that will make or break today's market participants. For more than 50 years, we have been developing growth strategies for the global 1000, emerging businesses, the public sector and the investment community. Contact us: Start the discussion
Global Care Assistance and Automation Robots Market, Forecast to 2021
K0F6-54