Seasonal influenza vaccine market across China, India and Japan set to reach US$1bn by 2028, says GlobalData
The size of the seasonal influenza vaccine market across the three major Asia-Pacific (APAC) growth markets (3GM*) will grow at a modest compound annual growth rate (CAGR) of 1.4% from US$914m in 2018 to US$1.05bn in 2028, says GlobalData, a leading data and analytics company.
The company's latest report, 'Seasonal Influenza: Forecast in Asia-Pacific Markets to 2028', reveals that the launch and increasing use of quadrivalent influenza vaccines in China and India, respectively, as well as the launch of plant-based vaccines in Japan will potentially provide stronger protection against seasonal influenza infections and drive growth over the next ten years.
Philipp Rosenbaum, PhD, Pharma Analyst at GlobalData, explains: "The launch of the first inactivated quadrivalent influenza vaccines in China from Sinovac Biotech, Chongqing Zhifei Biological Products and Wuhan Institute of Biological Products; new quadrivalent vaccines from Biken and Denka Seiken in Japan; and the launch of quadrivalent live-attenuated vaccines from the Serum Institute in India and AstraZeneca/Daiichi Sankyo in Japan will drive the growth across the 3GM.
"Additionally, the launch of the first non-egg-based vaccine in Japan, Medicago's virus-like particle (VLP) vaccine MDG-2271 quadrivalent, will initiate the transition away from egg-based vaccine in the APAC market and will drive the growth in the 3GM during the forecast period."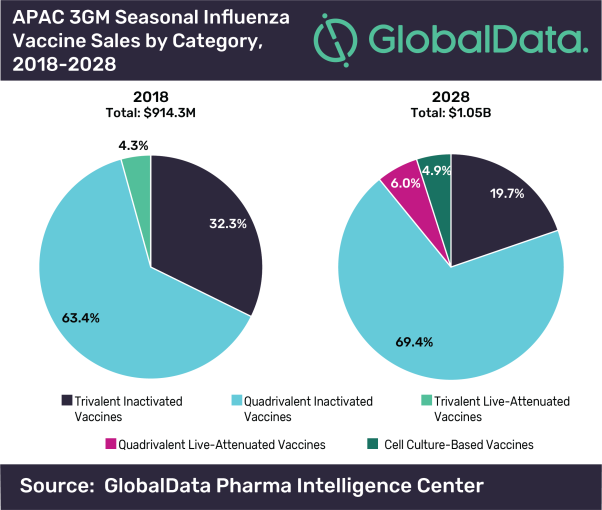 IMAGE FOR PUBLICATION: Please click here for enlarged chart
Key opinion leaders (KOLs) interviewed by GlobalData stated that higher vaccination rates are a major unmet need in the 3GM seasonal influenza market. Influenza immunization is not part of the national immunization programs in China and India, so vaccines have to be paid out of pocket, leading to vaccination rates of only 1.8% in China and 2.2% in India.
Rosenbaum concludes: "The launch of next-generation plant-based influenza vaccines in Japan will address the urgent unmet need of influenza vaccine efficacy while concurrently providing a platform to address environmental needs such as vaccine hesitancy. Universal influenza vaccines that will potentially provide multi-strain and multi-season protection are in development in the US and EU, but are not projected to launch until 2028 in the 3GM. Clinical trials necessary to prove long-term influenza virus protection will have to cover multiple influenza seasons."
3GM*: China, India and Japan.