Skins RY400 Recovery Long Tights and Long Sleeve Top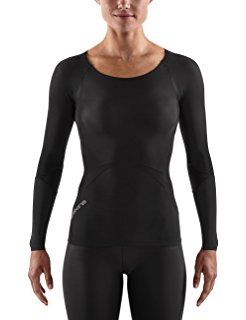 Some time ago Skins reached out to me and wanted to send me both tights and a top. I did some research on their products and agreed. Not only because I am a competitive athlete but I am a strong believer in recovery; recovery is very crucial when you put your body through high intensity training. If you are not fully recovering between workouts you will peak and not be able to perform at your best.
After reading up about the benefits of Skins recovery leggings and long sleeve top I figured I would give them a try. After my workout I through on my leggings and long sleeve shirt, skins recommends that you wear your recovery clothes for a minimum of 3 hours after your exercise allowing you to circulate blood faster feeding your muscles more oxygen.
The next day I did notice what I wasn't as sore as I typically would be. As for comfort level the leggings were super flexible, and the elasticity was durable and held up making it easier by not having to constantly pull up. The long sleeve shirt sat perfectly around my neck and wasn't too high as some long sleeves are. I definitely recommend Skins recovery line to any athlete to help speed up recovery.
Interested in learning more? Click the link below:
Yellow-Compression Guide_Original
If you're interested in snagging yourself a pair check them out:
https://www.skins.net/usa/skins-ry400-womens-long-tights.html
https://www.skins.net/usa/skins-ry400-womens-top-long-sleeve.html