SMS Audio - On Ear Wired Sport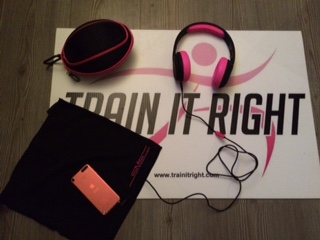 This past week I received a package from SMS Audio. The package contained two sets of headphones. One of which I have included here. The SMS Audio - On Ear Wired Sport. In Pink and black! My favourite colours. These headphones came with a great travel case for on the go transport. It is hard shelled so if you are like me and just throw your head phones in your bag this will keep them safe. They also came with a workout towel! How convenient. It actually is soft to touch vs some of the sweat towels where if you have dry skin or a callous your hands immediately stick to the towel.
I quickly put the head phones to work and headed down to the gym for a cardio session. They were very comfortable. Didn't move and I immediately noticed the extra long cord. This is key for wired head phones because it means you have lots of room and don't have to worry about pulling on the cord when doing exercises or HIIT training.
On top of all these other great features the sound quality is what I would call "saudi." Crips and clear.
Overall I would give them a 9/10. I would love to have a wireless version. That would give the headphones an overall 10/10. These are definitely TRAIN IT RIGHT APPROVED! Thanks SMS for these great workout headphones in my two favourite colours pink and black!
For more info check them out HERE