Asian Chicken and Rice Salad
Created by: BITE ME MORE – Julie Albert and Lisa Gnat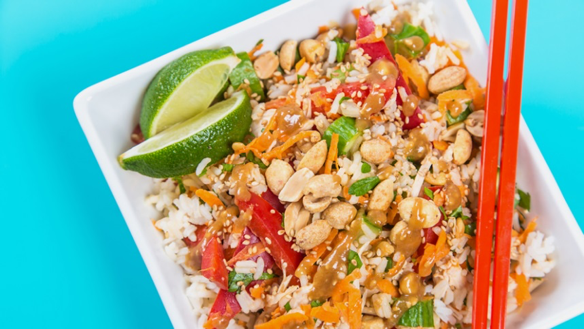 INGREDIENTS
Rice
2 cups water
½ tsp kosher salt
2 cups Minute Rice® Premium Instant Long Grain White Rice
2 cups Minute Rice Premium Instant Long Grain White Rice
Asian Dressing
¼ cup rice vinegar
¼ cup creamy peanut butter
2 tbsp soy sauce
2 tbsp honey
2 tbsp vegetable oil
1 tbsp sesame oil
2 tsp toasted sesame seeds
Salad
2 cups roasted deli chicken breast meat, shredded
1 red pepper, sliced into thin strips
1 large carrot, peeled and shredded
1 cup chopped cucumbers, unpeeled
½ cup chopped flat leaf parsley
½ cup roasted peanuts
Garnish
2 tbsp chopped green onions
2 tsp toasted sesame seeds
lime wedges
DIRECTIONS
To prepare the rice, in a small saucepan bring water and salt to a boil. Stir in rice, cover and remove from heat. Allow to sit covered for 5 minutes. Place rice in large serving bowl and set aside.
For the dressing, in a medium bowl whisk rice vinegar, peanut butter, soy sauce, honey, vegetable oil, sesame oil and toasted sesame seeds until smooth set aside.
To prepare the salad, add chicken, red pepper, carrots, cucumbers, parsley and peanuts to the cooked rice. Pour dressing over to coat well. Garnish salad with green onions, sesame seeds and lime wedges.
Chicken & Mushroom Mock Risotto
Created by: THE DIY MOMMY – Christina Dennis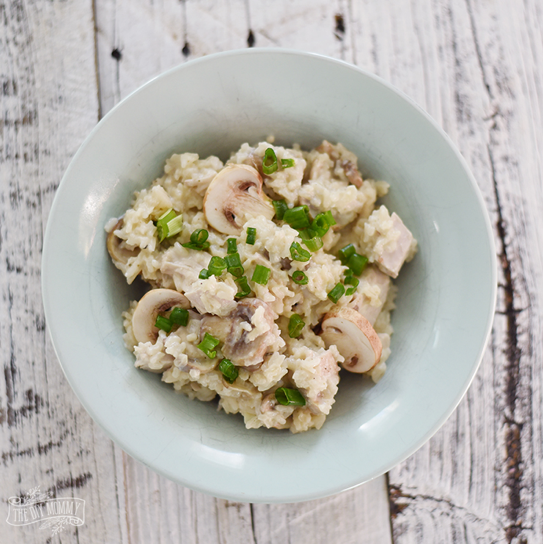 INGREDIENTS
1 tbsp olive oil
¼ cup finely chopped onion
2 finely chopped cloves of garlic
1 cup sliced fresh mushroom
2 cups Minute Rice® Premium Instant Long Grain White Rice
4 cups chicken broth
¼ cup cream cheese
1 cup chopped cooked chicken breast
DIRECTIONS
Heat the olive oil in a pan on the stove on a medium heat setting. Add the onion and garlic and sautee until the onion is clear.
Stir in the mushrooms, and sautee until the mushrooms are golden brown.
Add rice, and stir for about 2 minutes.
Slowly pour in the chicken broth, and stir the entire mixture until it's thick - about 5 minutes.
Turn the heat down to a low setting and stir in the cream cheese and cooked chicken breast. Cook for about 2 more minutes or until the cream cheese is incorporated and the chicken is warm.
Serve with a sprinkling of chopped green onion or parsley.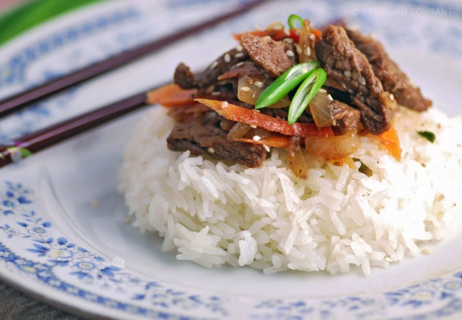 Easy Beef Bulgogi
Created by: CAROL AU COURANT – Carol Gomez
INGREDIENTS
1 lb of thinly sliced sirloin (or any tender prime beef cut), about 1/8 inch
3 tbsp soy sauce
1 yellow onion
3 tbsp brown sugar
1 tbsp garlic, minced
2 stalks green onion, chopped
1/2 medium carrot, peeled and grated
2 tbsp rice wine (mirin)
1 tsp ginger, minced
1 tbsp sesame oil
1/2 cup of Coca Cola
1 tbsp sesame seeds for garnish
2 cups Minute Rice® Premium Instant Long Grain White Rice
DIRECTIONS
Mix all ingredients except the beef in a bowl to create the marinade.
Add the beef and marinate for a few hours or overnight for best results.
Grill or pan-fry until meat is cooked (approx. 30 minutes).
Garnish with sesame seeds, add individual serving sizes into foil packets, close packet and serve with a side of Minute Rice® Premium Instant Long Grain White Rice
NOTES
If you want to swap the coke for a healthier alternative, use half a cup of crushed asian pear or royal gala apple
always taste your marinade before adding beef so you can adjust to your taste
the meat quality and thinness is super important!
if you double the recipe for leftovers, portion them out and freeze; thaw overnight the day before consuming.
you can freeze the unused (& uncooked) meat in the freezer for a few weeks
you can find pre-sliced bulgogi thinly sliced beef at most Asian stores, if not, ask the deli if they can thinly slice the meat about 1/8 inch. If you choose to cut the meat yourself at home, slicing is easier when meat is partly frozen.