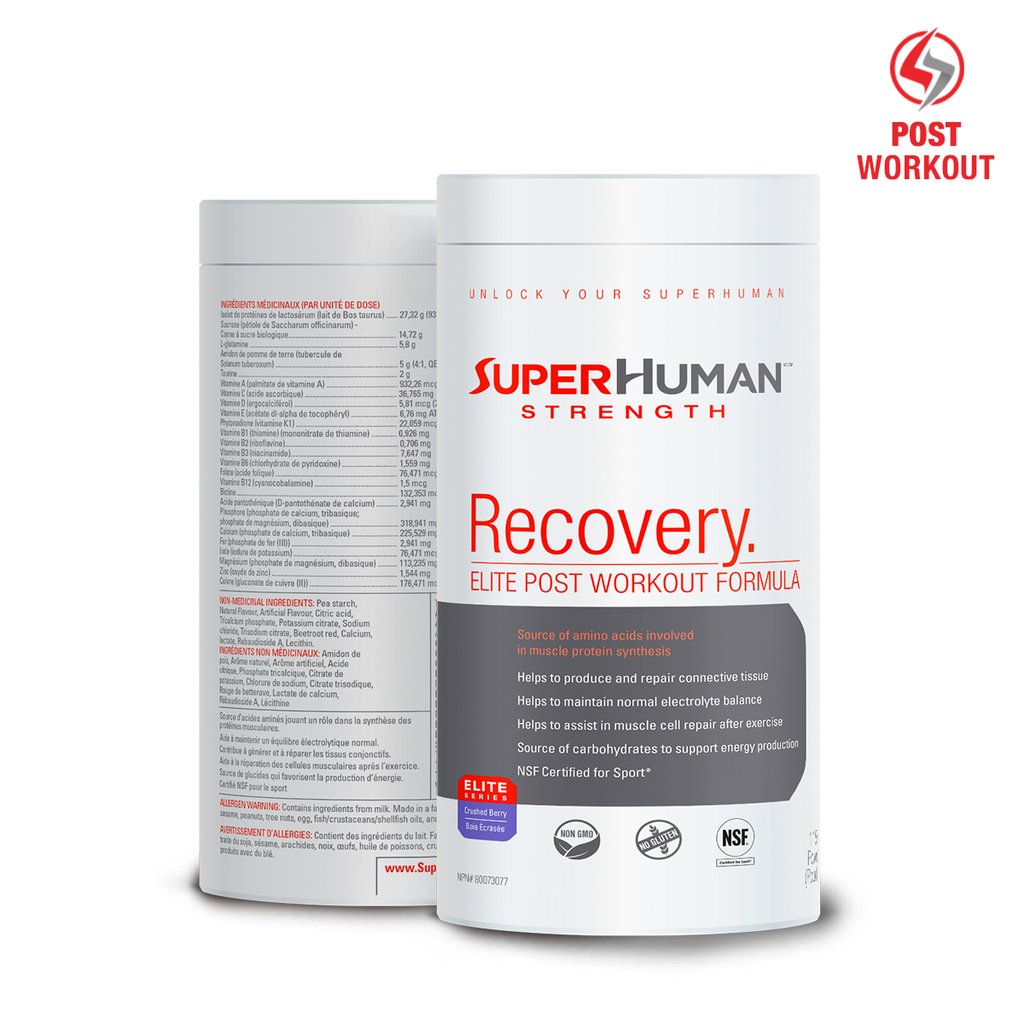 Hey Guys!
I was recently sent the Super Human Elite Post Recovery Formula to try. It can be found at: https://www.superhumanstrength.com/pages/recovery-protein-hydration-formula  
"Intense sports and workouts deplete your body of what it needs. It's because of this that we created our Recovery Formula. This formula will put the necessary protein, carbohydrates, amino acids, electrolytes and vitamins that your body wants after an intense workout or game. Our Recovery formula has been designed with intensity in mind."
As I was just beginning my prep I was able to try it. I also gave it to my boyfriend to try. The flavour that they sent us was "Crushed Berry."
My first impression was that the container was sharp looking and unique vs other brands and products. Its tall and slender and its very easy to see the writing on the packaging.
According to their website:
"Our Elite Series Recovery Protein Formula was created out of a need by strength coaches in professional sports. Due to many professional sports signing on to NSF Certification (This makes sure there are no banned substances in the products) strength coaches haven't had a many choices for safe products to choose from that were also natural. SuperHuman Recovery is an NSF Certified for Sport product that has been formulated using natural ingredients to allow the body to recover from a high intensity workout and provide the body all of the protein, carbohydrates, amino acids, electrolytes and vitamins that it wants. This product carriers a Canadian Natural Product Number. (NPN)
This product is perfect for athletes and also non-athletes that just want to exercise. Many people have found that they not only feel less depleted after consuming the Recovery protein formula, but also feel less sore the next day.
This product has no artificial sweeteners or colors and you'll be a bit shocked by how good and refreshing it tastes after a workout, game or any other strenuous exercise.
Fun Fact: We had a big debate over here at SuperHuman about the organic sugar in this product. Most of the market is moving towards no sugar much like our other products. However, for a recovery product, sugar is listed as a medicinal ingredient. After a workout, sugar is a proven method to help replenish that lost glycogen in muscles and help shuttle amino acids into the muscle cells, thus providing a true recovery. This type of recovery also helps cut down on muscle soreness and helps build and repair body tissues.
1156 grams(2.55 lbs) – 68.3 gram serving – 17 Servings
Recovery Elite Post Workout Formula by SuperHuman is a supplement that provides over 27g of pure New Zealand Whey Isolate protein, as well as 27g of our engineered carbohydrate matrix that includes; organic cane sugar, potato starch and pea starch, not to mention relevant doses of vitamins and minerals in each dose. Recovery contains unique ingredients that have been clinically proven to help restore and replenish energy.
Ingredients Include:
INGREDIENTS: New Zealand Whey Protein Isolate,
Organic Cane Sugar, Carb10 (Legume-based
starch derived from pisum sativum (peas)), Potato
Starch, Natural Flavour, Citric Acid, Taurine, Vitamin
& Mineral Blend (Vitamin A (Vitamin A Palmitate),
Vitamin C (Ascorbic Acid), Vitamin D2
(Ergocalciferoil), Vitamin E (dl-Alpha Tocopheryl
Acetate), Vitamin K (Phytonadione), Vitamin B1
(Thiamine Mononitrate), Vitamin B2 (Riboflavin),
Vitamin B3 (Niacinamide), Vitamin B6 (Pyridoxine
Hydrochloride), Folic Acid, Vitamin B12
(Cyanocobalamin), Biotin, Pantothenic Acid
(Calcium D-Pantothenate), Potassium (Potassium
Citrate), Sodium (Sodium Chloride, Sodium Citrate),
Phosphorous (Tricalcium Phosphate, Magnesium
Phosphate), Calcium (Tricalcium Phosphate,
Calcium Lactate), Iron (Ferric Orthophosphate),
Iodine (Potassium Iodide), Magnesium (Magnesium
Phosphate), Zinc (Zinc Oxide), Copper (Copper
Gluconate)), Red Beet Powder (colour), Stevia Leaf
Extract, Sunflower Lecithin (as an emulsifier).
After a vigorous workout you must replenish your body with energy in the form of calories. By doing so, your body increases protein synthesis, replenishes glycogen and decreases protein breakdown. Where those calories come from is very important, that's why a recovery protein shake is often the easiest and most convenient way to get the nutrients you need.
Post workout nutrition is based on the fact that certain nutrients are metabolized differently at different times of the day, specifically around times of exertion, i.e. your workout. Exercise sensitizes muscle tissue to certain hormones and nutrients, making muscles most responsive in a post workout window of anywhere from 30 minutes to 48 hours, depending on the work done. The macro-nutrients of focus are carbohydrates and protein. Carbs assist with replenishing glycogen, which is stored in muscle and is the main source of energy used in a lot of endurance sports. Replacing these stores has significant impact on subsequent performance levels, for both aerobic and anaerobic work. Protein, on the other hand, helps with building and repairing muscle. Exercise increases circulating catabolic hormones that break down glycogen and fat for fuel and can continue to break down muscle tissue, post exercise, if nutrient intake is compromised. Therefore, consuming a high glycemic carbohydrate, as well as a high quality protein, such as the ingredients found in SuperHuman Recovery, will help ensure that you're properly re-fueling, replenishing, repairing and re-building, post workout.
SuperHuman Recovery Protein contains a unique combination of carbohydrates that that create a cascade effect of absorption into depleted muscle cells after intense exercise. All of these ingredients are natural and from the purest sources available."
For me personally I found it did not mix well with water and had kind of a grainy taste. Maybe I needed to mix it more. However, I was short on time so I did not get to do so.
I really like the fact that it is non GMO, gluten free and NSF. It does have a whey protein so be careful if you can't digest dairy because that means it is deprived from milk. Although the website claims that it has no artificial sweeteners Sucralose was named in the ingredient list along with sugar cane and potato starch. Despite these ingratiates all of the other ones make for a great post workout cocktail especially the fact that it does have an array of vitamins, taurine, L-Glutamine and magnesium among other great micronutrients for recovery. It states on the packaging that you should consume no later than 90 minutes after exercising. One thing I didn't like about the label is that it doesn't say how many calories a scoop is nor how many carbs and/or fat it contains. These are particularly important to me since I do watch my macronutrients as a bodybuilding figure athlete.
The product is manufactured in the USA but does state that it is a product of Canada. Which I find interesting.
Overall I think this is a decent post workout for an athlete that plays sports or a recreational gym goer looking to improve their recovery and health. The price is a little steep but thats because most of the ingredients seem to be high quality. You get what you pay for with this product.