THE GOOD GEISHA OPENS SHOP IN PACIFIC MALL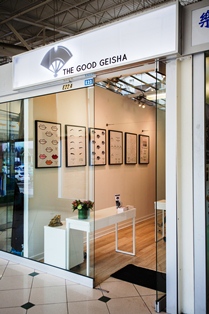 TORONTO, ON – Wednesday, May 17th, 2017 – When The Good Geisha first opened their shop last year in Kensington Market, owners Anna Chow and Amber Gotzmeister never imaged they would be opening a second location so soon before their one-year anniversary. The overwhelming demand for microblading has given them the confidence in expanding their niche beauty business of cosmetic tattooing across the GTA.
"Balancing eyebrows are big business," says business owner, Gotzmeister. "We once held a promotional event and had customers lined up outside for hours, just to get our microblading deal. We tattooed 46 eyebrows in ten hours that day. After market research, the opening of the second location in Pacific Mall just made sense to us."
In the past year, The Good Geisha has created a training program for people interested in working in the cosmetic tattoo industry and recently finished a textbook setting a microblading standard. They have been featured in The Toronto Star, The Marilyn Denis Show, and Flare Magazine. Style Democracy ranked them one of the best beauty salons in 2016.
"We first opened our shop as an answer to consumers looking for a reputable and legitimate business that holds the highest standards in experience, health and safety, and knowledge," says co-owner, Chow. "The cosmetic tattoo industry is completely unlicensed and unregulated, creating a blackmarket of inexperienced and undertrained 'microbladers' cashing in on the lucrative business. Our goal is to help get this high-risk procedure out of basement setups and budget hair and nail salons."
The Good Geisha uses only 100% disposable tools, and is fully certified in bloodborne pathogens, trained as a distributor for the highest level surface and instrument disinfectants and sterilants, and disposes all contaminated waste through a licensed biohazard waste disposal service. They use full personal protection, such as, gloves, arm barriers, aprons, masks, and eye protection for all procedures.  Watch Toronto woman getting faux freckles in this video.
The Good Geisha is the GTA's only cosmetic tattoo shop with two locations specializing exclusively in custom cosmetic tattooing and colour correction. They have ten years of experience in cosmetic, reconstructive, and corrective tattooing. Watch their welcome video. FOR A GLIMPSE INTO THE WORLD OF THE GOOD GEISHA CLICK HERE - 9, 347 Followers and GROWING!