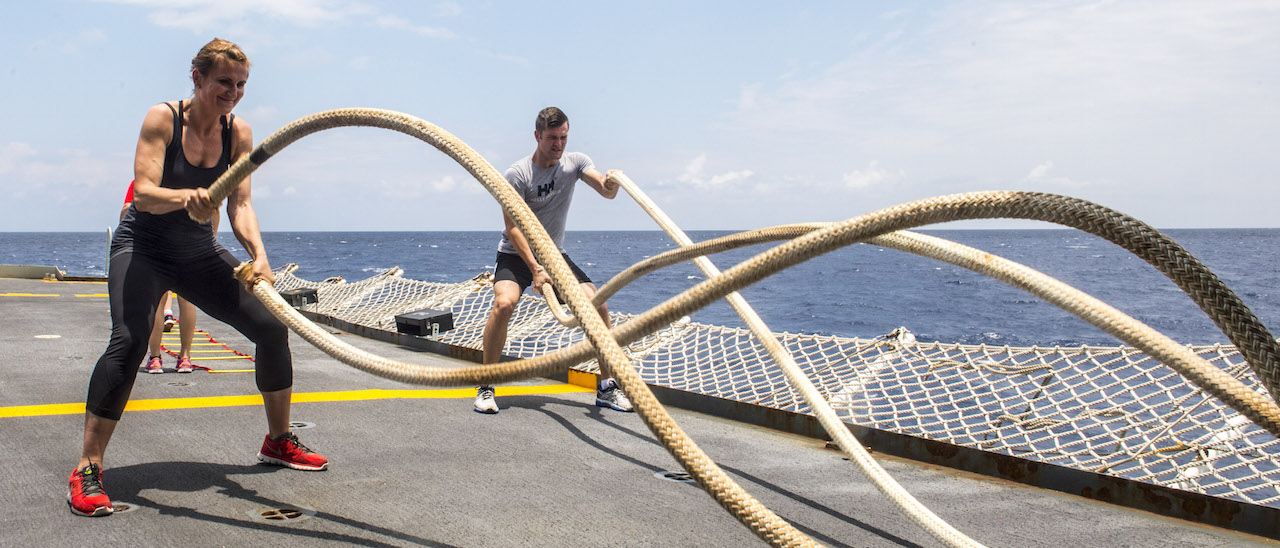 The Royal Canadian Navy comes to the Redpath Waterfront Festival, presented by PortsToronto, for the first time and will be stationed inHarbour Square Park from July 1to 3.  The public is invited to join the Navy for their daily run, test their fitness in a Navy-themed obstacle course, watch the Urban Fresh Navy Cook Off and tour the decks of two Coastal Defence Vessels.
Canada's naval force consists of approximately 13,000 full and part-time military members and 3,700 civilians stationed across the country. Its missions range from humanitarian assistance and disaster relief, to deterrence, to full combat operations all around the world.  "It is with great pleasure that the Royal Canadian Navy will participate in this year's Redpath Waterfront Festival," stated Vice-Admiral Mark Norman, Commander of the Royal Canadian Navy. "It is always an honour for the Royal Canadian Navy to attend community events such as this, especially on Canada Day, since they give us a chance to showCanadians our ships and sailors, and to help build a better understanding of the work we do every day on their behalf in defence of our nation and its interests around the world."
BE INSPIRED BY THE ROYAL CANADIAN NAVY
Visitors will have the opportunity to tour the decks of two of the Navy's 55-metre Maritime Coastal Defence Vessels, Her Majesty's Canadian Ships (HMCS)Kingston and Goose Bay, throughout the weekend for free. Both vessels are warships with the primary mission of coastal surveillance and patrol, including general naval operations and exercises, search and rescue, law enforcement, resource protection and fisheries patrols.
Early risers can come to Harbour Square Park and join the Navy for a fun and motivating 5km run along the Martin GoodmanTrail, July 1 and 2 at 8am. Then, test your fitness levels at the RWF's fun Navy-themed Obstacle Course that happens all weekend long. Crews from the participating ships will compete against each other and the Navy as well as Toronto Fire,Toronto Police, The Argo Cheerleaders and more.  The obstacle course features a Wall Climb, Over/Under, Pyramid box jump over, Web crawl, Camo crawl, Balance beams andMonkey bars. The public is invited to try the obstacle course between competitions.
Two selected Navy Chefs will compete in the Urban Fresh Navy Cook Off sponsored by Sobeys Urban Fresh on Saturday July 2 in Harbour Square Park from 12:00p.m. to 2:30p.m. These Naval Chefs, one from each coast, will go head-to-head in a heated competition judged by a panel of experts including 2014 Masterchef Canada winner, Chef Eric Chong. Chefs will be presented with a black box of mystery ingredients to create something delicious in the tight quarters of the galley onboard each ship. Watch the action as the competition heats up live from the galley camera on the big screen in this park.
YOUR ADVENTURE AWAITS WITH PARKS CANADA
In addition to the Royal Canadian Navy, Parks Canada will be located in Harbour Square Park. Celebrate the fascinating heritage behind our National Parks, Historic Sites and Marine Conservation Areas. Learn about the spectacular underwater vistas of hundreds of rivers, lakes, and thousands of kilometres of coastlines in Canada. Take an arctic dip or paddleboard on the Great Lakes with their interactive Green Screen Photo Booth, or learn about the northern discoveries of the Franklin shipwreck. Kids can enjoy airbrush spray tattoos and getting their photo taken with Parks Canada's mascot. Fun for all ages!
DISCOVER ARTISANAL GIFTS AND SAVOUR FRESH FOODS AT THE WATERFRONT ARTISAN MARKET
After the resounding success at RWF last year, the Waterfront Artisan Market (WAM) presented by The Waterfront BIA in partnership with Toronto Market Company (TMCo), returns to HTO Park with a carefully curated mix of 50 top artisans, crafters, chefs and bakers. Browse and shop for finely crafted jewelry, unique works of art, delicious foods and artisanal gifts. Those who are looking to discover food will find more than 20 cook on site food vendors.
EXPERIENCE THE ULTIMUTTS STUNT DOG SHOW
Also returning is the Ultimutts Stunt Dog Show which will be featured at Purina PawsWay July 2 and 3, featuring non-stop, jaw dropping tricks from adorable rescue pups. See them play piano, do handstands, skateboard, tightrope walk and so much more.
ENCOUNTER POP-UP ENTERTAINMENT ALONG THE WATERFRONT
Take a break and experience live music, dance demos, live art and buskers at the Simcoe and Rees WaveDecksprovided by Waterfront Toronto and Daniels Waterfront – City of the Arts.
WATCH THE GRAND FINALE PARADE OF SAIL
On the final day of the festival, July 3, there will be a Grand Finale Parade of Sail with all participating ships plus unique local vessels. The ships will tour the harbour and then sail along Toronto's dock wall from west to east. Previous RWF Parade of Sails have attracted hundreds of thousands of spectators along the entire stretch of Toronto's waterfront.
General admission to the Festival is free and a detailed list of scheduling and program information is available on the Festival website www.TOwaterfrontfest.com.
The Redpath Waterfront Festival is an annual summer event providing on-land and on-water programming for people of all ages and interests, with the goal of promoting Toronto locally and internationally as a premiere waterfront destination. With music, food, nautical programs and entertainment, the festival offers something for everyone to enjoy. Every three years, the event welcomes majestic TALL SHIPS® to Toronto.www.TOwaterfrontfest.com
2016 Redpath Waterfront Festival partners include Redpath Sugar, PortsToronto, The Waterfront BIA, Toronto Argonauts and Sobeys, among others.