TIKI HUT LIVIN REIMAGINES FUN IN THE SUN, LAUNCHING THE
TIKI HAT AT MARGARITAVILLE KEY WEST RESORT &, SUNSET
KEY COTTAGES, KEY WEST FLORIDA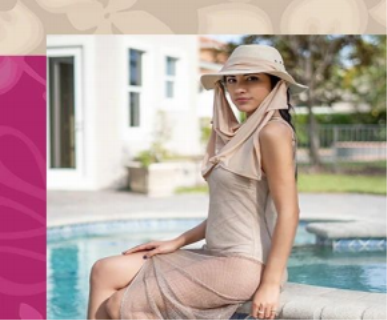 Sunset Key, Key West, FL– Tiki Hut Livin (www.TikiHutLivin.com) balances fashion andfunction in a line of outdoor and sun-safe apparel. The Tiki Hat has been popular this summer at the Sunset Key, Key West location, and is expected to be the new "must have" item this fall. "The Tiki Hat" is a patent pending design that elegantly offers women protection from the sun, in a practical and chic way. The scarf doesn't just block 98 % of UV rays with the two UPF 50+ scarfs, but it also meets the CDC requirements for a cloth face covering while out in public.
"Outdoor lovers want to protect themselves from sun exposure. Yet, when having to choosebetween style and safety, it seems that most people pick style. Our products create a new normal where people no longer have to choose" Says CEO Capobianco.
The Tiki Hat offers numerous styling options, to either cover up completely, partially, or wear as a fashion accessory. The scarves can be removed and easily swapped to coordinate with any outfit or event. She designed the hat with small magnets embedded into the brim of the hat, and sewn into the seam of the fabric, to protect while boating, beaching or driving in a convertible. "As soon as I saw 'The Tiki Hat,' I knew I had to have my own, and now I never go to the beach without it," said Mazzone, a Florida Sunshine State resident. "All of Cheryl's products not only have a fashionable flare, they have an important health aspect," added Mazzone.
Tiki Hut Livin is an athleisure brand with a line of outdoor and ultraviolet protective apparel. They carry a wide range of hand- picked products for outdoor fun, to sun safe eyewear, and sports accessories. They cater to men and women and believe that "good clean livin shouldn't cost a lot of money."
For more information on Tiki Hut Livin, visit the company's official website atwww.TikiHutLivin.com.