Top Foods To Reduce Pain Naturally
Print your 5$ off coupon by clicking HERE
Food is loaded with natural ingredients that will help reduce inflammation and keep you healthy. These natural ingredients can help address what might be causing inflammation and pain in the first place. Keeping your diet natural can help increase mobility. By adding in natural health supplements like Genuine Health FAST pain relief+, your body won't quit unless you do.
Ginger
Ginger fights pain and inflammation on two different fronts. It can stop inflammation before it ever starts by inhibiting the formation of inflammatory compounds in your body, and it has anti-inflammatory effects that can help reverse the inflammation process once it starts.
Pineapple
Pineapples are a super-rich source of vitamin C, which helps fight the free radical damage that contributes to the joint pain and disability that can accompany osteoarthritis and rheumatoid arthritis.
Salmon and Sardines
It's the high concentration of anti-inflammatory omega-3 essential fatty acids that make cold-water fatty fish like salmon and sardines effective pain-fighting foods. Omega-3s may reduce risk of inflammatory-related chronic diseases, such as heart disease, cancer, and arthritis.
Garlic
Garlic is one of the oldest cultivated plants. We've been growing it for over 5,000 years! Garlic is rich in sulfur-containing compounds that give it its distinctive smell, but also its health benefits. These sulfur-containing compounds help protect you against both inflammation and oxidative stress.
Avocado
Yes, the avocado is fatty, but it is mostly monounsaturated (healthy) fats. And remember, it's not fat that makes you fat. Sugar does. Avocado is a perfectly balanced food! it's got healthy fat, fibre and protein! Avocados even have a special type of fats (phytosterols) that provide important anti-inflammatory benefits to our body systems.
The important thing to remember is that not all natural supplements are created equally. Ever heard of natural eggshell membrane? Sometimes referred to as NEM? Only Genuine Health products carry Biovaflex, a form of NEM.
What is BiovaFlex? - It is a natural health ingredient found in egg membrane that includes collagen, elastin, desmosine, isodesmosine, glucosamine and chondroitin. In a nutshell, it improves cartilage strength and elasticity helping to joints to be more mobile without pain.
For mild joint pain, FAST joint care+ includes all that you need and of course contains Biovaflex. For more severe pain and osteoarthiris, Genuine Health has fast arthritis relief+ which also contains Avovida (from avocados) and Bromelain (from pineapple) which are proven to increase that joint space while the BiovaFlex builds the cartilage back.  They also have fast pain relief+ which is a great alternative to everyday pain medication and works in as little as two hours for headaches and cramps. All using whole food based ingredients!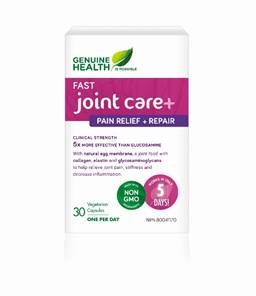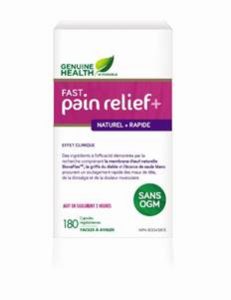 FAST joint care+

 

FAST joint care+ provides effective relief from joint pain and inflammation – naturally. Made with the patented and proven ingredient Biovaflex® natural eggshell membrane, its formula provides the fastest, most effective way to improve mobility and range of motion due to osteoarthritis joint pain and joint stiffness.

Benefits:

·         Fast, natural pain relief that works in 5 days

·          Increases mobility and range of motion with noticeable reduction in inflammatory markers like C Reactive protein

·         Helps build joint cartilage, while improving long-term joint health

·         1 veggie capsule per day

 

FAST pain relief+

 

FAST pain relief+ is the latest all-natural, clinical strength supplement to help relieve acute pain, such as headaches, back pain, muscle aches and chronic flare-ups. Made with the unique combination of Biovaflex® natural eggshell membrane, Devil's Claw (a natural anti-inflammatory ingredient), and White Willow Bark (nature's Aspirin), FAST pain relief+ gives you the fastest, most targeted and effective way to manage your pain.

Benefits:

·         Fast, natural pain relief that works in 2 hours

·         Targets acute pain and can prevent chronic flare-ups

·         Non-drowsy with no negative side effects reported

·         3 veggie capsules per day