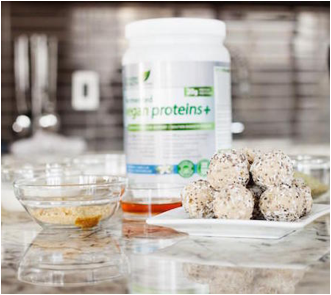 Try these Lemon Poppy Seed Bites that are perfect for those always on the go!
Here's how to make them at home…
Ingredients:
1 scoop fermented vegan proteins+ vanilla
½ tsp poppy seeds
1 lemon squeezed, and zest grated
2 tbsp ground flax seed
½ c coconut flour
¼ c ground almonds
¼ c ground pumpkin seeds
2 tbsp maple syrup
6 tbsp unsweetened vanilla almond milk
Coating:
¼ c coconut flakes
2 tbsp poppy seeds
Directions:
- Mix in coconut flour, ground flax seed, fermented vegan proteins+ and lemon zest, and thoroughly mix ingredients.
- Add in maple syrup, lemon juice, almond butter and almond milk. Continue to mix until doughy texture is achieved.
- Mix in ground almonds, ground pumpkin seeds, and poppy seeds by hand and roll into bite size portions.
- In separate bowl combine coconut and poppy seeds. Roll each bite in mixture to coat as desired.
- Makes approximately 1 dozen. They freeze well and taste great when thawed.
Voila! Enjoy super tasty, extra healthy lemon poppy seed bites made with fermented Vegan proteins+, which you can enjoy guilt free!
fermented vegan proteins+ is the first and only complete fermented vegan protein from seven plant-based sources, providing advanced digestive support, and maximum nutrient absorption – without the bloat. With 20g of dietary protein per serving, fermented vegan proteins+ supports optimal digestive health and primes the gut for other health promoting ingredients. Genuine Health's unique, artisanal fermentation process unlocks vitamins, minerals, amino acids and carbohydrates for optimal absorption by the body by removing anti-nutrients and amplifying nutritional potency. The difference between good health and great health lies in the amplifying power of fermentation! For more information visit, www.genuinehealth.com.
Genuine Health is a great supporter of the David Suzuki Foundation and donates 5% of all profits annually to the organization