United Breast Cancer Foundation (UBCF) Releases New #FlauntYourFight Public Service Announcement in NYC's Times Square
PSA focusing on body positivity in breast cancer patients and survivors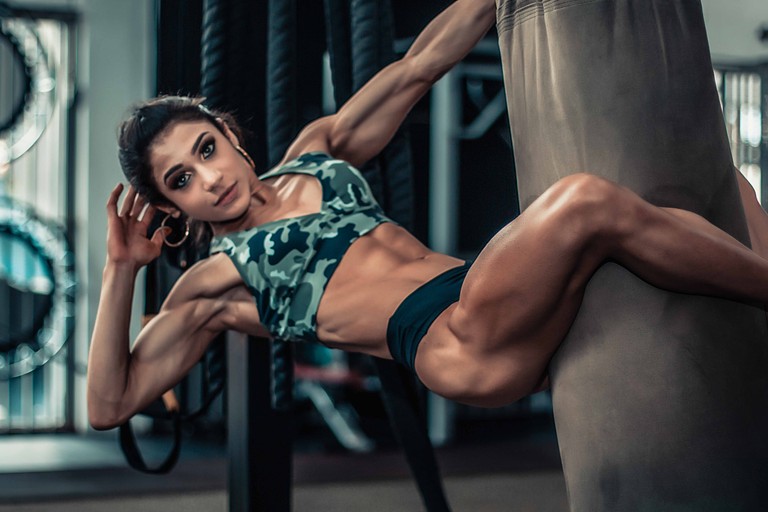 The United Breast Cancer Foundation (UBCF) follows their recent PSA campaign on the importance of early breast cancer detection with the empowering PSA, #FlauntYourFight airing in New York City's Times Square. The PSA is a call to action for all breast cancer patients and survivors to be proud of their bodies, their struggles, and their journeys in the fight against the disease. The provocative imagery of women dressed as warriors is airing on a full HD billboard located prominently at 1500 Broadway now through January 5, 2017. The 10 second ad that runs 3 times an hour, 20 hours a day, relays a visual message of UBCF's goal to relieve the stresses of all those who are affected by breast cancer. Neutron Media assisted with creative production.
The images were first seen in a UBCF-sponsored art show, "The Faces of Breast Cancer," by Frenchphotographer Pascal Latil, in August 2015. Women may face psychological stress for remaining vigilant intheir appearance after losing either their breasts or hair. The #FlauntYourFight campaign gives a voice to manyclients served at UBCF and far beyond. Stephanie Mastroianni, UBCF President and Executive Director, says, "Our hope is to continue to debunk the stereotype of beauty and what defines a woman and her femininity." Mastroianni continued, "This is milestone for UBCF; [continuing] a branding opportunity in Times Square,which is truly the center of the world. Over 26 million people visit Times Square every year – that's nearly 50,000 per day seeing UBCF's #FlauntYourFight PSA."
Maintaining a normal lifestyle can be the most comforting service provided by UBCF programs. This new messaging is intended to empower breast cancer patients and survivors to be proactive about treatment and aftercare. UBCF's seven programs offer financial and emotional support, as well as a comprehensive approach to managing many aspects of living with cancer.
About Neutron Media
Neutron Media, Inc. has thrived for fourteen years by providing outstanding customer service and introducing business and non-profit organizations to the exciting, far-reaching possibilities of advertising through LED Outdoor Media. Neutron Media's current jewel in the crown is the stunning HD screen at the corner 1500 Broadway and West 43rd Street, in the heart of Times Square in New York City. http://www.neutronmedia.com
About UBCF
UBCF is committed to offering breast health and wellness services focused on cancer prevention, screening, treatment and over-all wellness. UBCF's mission, to make a positive difference in the lives of those affected by breast cancer, is carried out every day through seven life-supporting patient and family programs available to women, men and families nation-wide. UBCF never denies services to anyone regardless of age, race, gender, ethnicity, income or medical insurance coverage. If you are in need of breast health services, please visit UBCF at http://www.ubcf.org or call toll-free, 877-822-4287. Tax-deductible contributions may be made towards UBCF's programs. UBCF accepts vehicle and property donations as well. Contributions may be mailed to UBCF, P.O. Box 2421, Huntington, NY 11743, or donate through the Combined Federal Campaign, #77934.