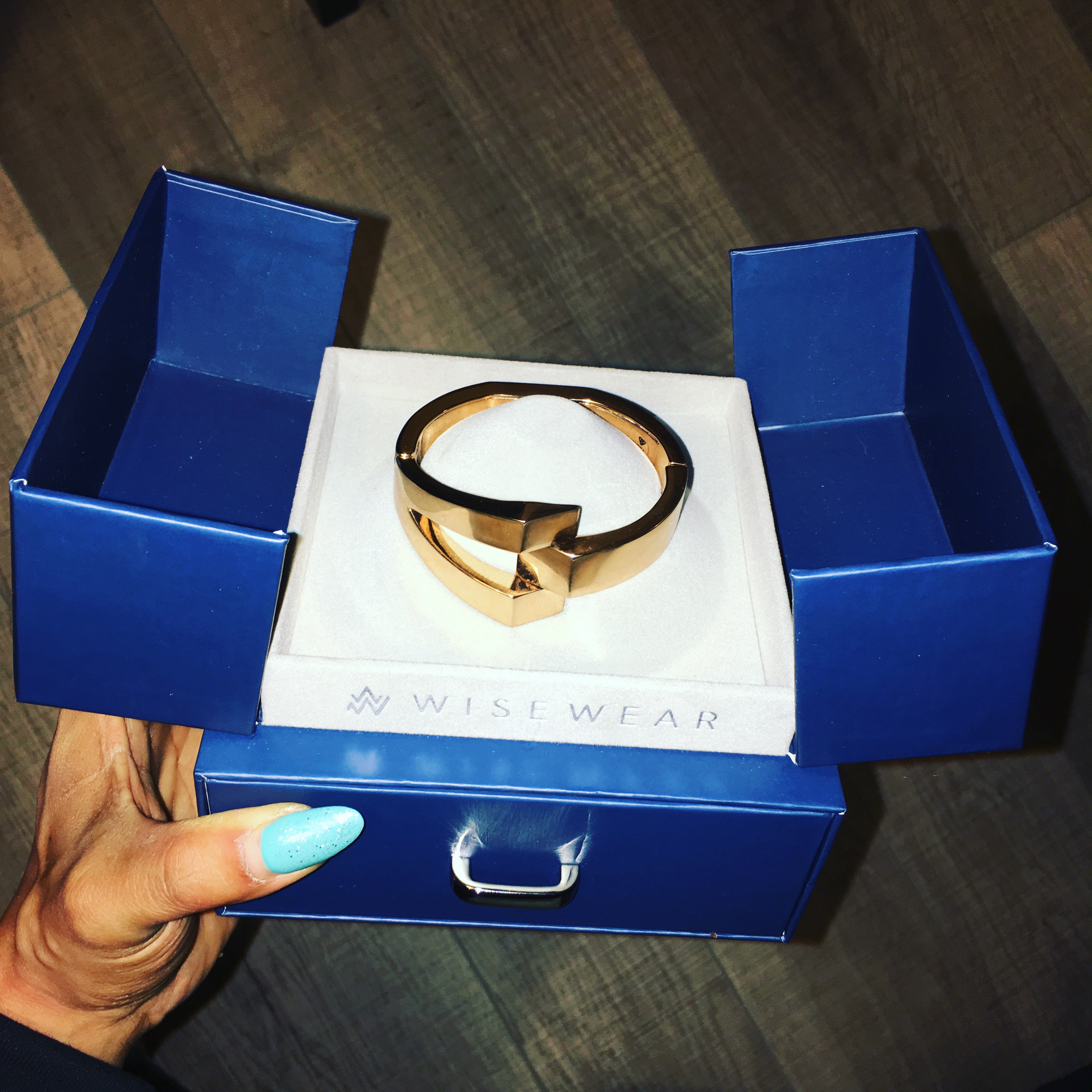 I want to introduce you to WiseWear, a luxury smart jewelry brand that is perfect for women of all age groups. I was recently sent one to review for you guys and I absolutely love it. Especially the style. you would never know that it is an activity tracker. Read more to find out why I love it so much and why it deserves a 9/10 Train It Right review.
The WiseWear Socialite Collection is designed to keep you safe, healthy, and connected to what matters most. Each bracelet serves as a safety device with a unique distress messaging feature, provides real-time mobile notifications, and tracks your activity. By concealing advanced technology inside beautiful jewelry, Socialite empowers you to feel your most confident on the inside and out!
WiseWear, a boutique engineering firm, designs beautiful connected products that are fashion fused with threads of technology. Their debut Socialite Collection has a retail range of $295 - $345 and showcases smart jewelry made with invisible electronics and sensors; a seamless blend of fashion and function, so you'll never have to sacrifice one for the other.
Socialite is designed to keep you safe, healthy and connected to what matters most. It connects to your phone via Bluetooth and includes the following features:
- Distress Messaging: In an urgent situation, tap the bottom half of your bracelet to notify your emergency contacts with a text message and drop pin to your GPS location. Which I think is pretty cool and great for women on the go that often find themselves walking to their care late at night in a dark empty parking lot.
- Mobile Notifications: Gentle vibrations notify you to check your phone for important calls, texts, emails, calendar events and low phone battery. You can set the vibrate to go for whatever number you want for each event that way you know why its vibrating based on the number of rings.
- Activity Tracking: Track your daily and weekly activity, including step count, distance, calories burned and active time. Set your goals and monitor your progress on the mobile app. You know this is my favourite part.
Women of all age groups can certainly understand the importance of the safety feature that the Socialite Collection offers. Whether you're a college student walking back to your dorm alone at night or an elderly woman living on your own and worried about your safety, the Socialite collection is the perfect piece of technology that will keep you safe and connected to what matters most. Perfect for Valentine's Day and Mother's Day Gift Guides - The Socialite Collection by WiseWear is a stunning piece of smart jewelry we know she'll love.
View the entire Socialite Collection here: WiseWear.com
I give this tracker a 9/10. It looks great, tracks great, is very aesthetic, has great unique features but I sometimes have difficulty with the clasp when I want to take it on and off. It sometimes gets frustrating and I have to fight with it for a few minutes. Even with that I totally love it and highly recommend it for those who'd not like the look of other sporty activity trackers.