Working From Home Can Be a Pain in The Neck and Back, Get Back-Popping, Knot-Kneading Relief With The Chirp Wheel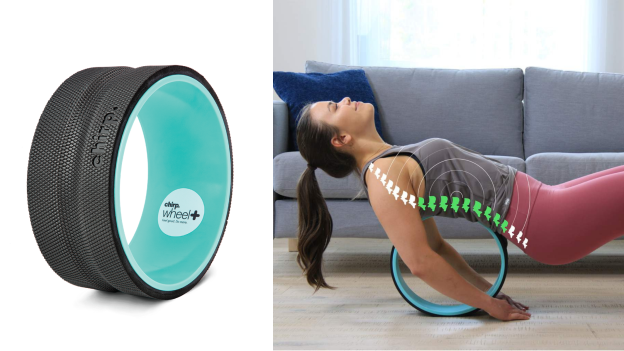 Due to the COVID pandemic, more people across the United States are working from home than ever before, approximately 25-30% of the workforce. While there are some bonuses like no commuting in traffic and working in your sweatpants, a major downside has developed: new or worsening neck and back pain. The most logical culprit is makeshift home offices that are not ergonomically correct. Not everyone has the luxury of a designated home office. In the U.S., back pain is a leading cause of missed days at work and school. Without proper care, approximately 20% of people with acute lower-back pain will have persistent symptoms within a year. To add insult to injury, many are afraid to seek outside care for fear of exposing themselves to people during the pandemic.
PRODUCT DETAILS
Get back-popping, knot-kneading relief
Effortlessly release low back tension
Roll out headaches and neck pain
Sleep better by relaxing tight muscles
PRODUCT DESCRIPTION
The Chirp Wheel is designed to fit perfectly between your shoulder blades, targeting the muscles that go up and down your spine. As your back is strained from the countless activities you do, those muscles lock up, and cause even more pain. The Chirp Wheel massages those muscles, relaxing your back and relieving all of the pain.

What age range is Chirp Appropriate For? Chirp's customers range from 18-80. The Wheels can even hold up to 500 lbs, so it's built 100% PVC free and won't break. If your back pain is the result of a serious accident or injury, please consult a doctor first.
How often should one use the Chirp Wheel +
It is recommended that the Chirp Wheel+ is used for 5-10 minutes a day, or as needed. The Chirp Wheel+ is designed to reduce tension, target knots, and help 'open' your vertebrae. Be patient. Your body may need some time to decompress the spine and relax all those tight muscles."
See the Chirp Wheel + In Action – Click link to view
Chirp Wheels are Available in a range of Sizes
12" Gentle :$65.00
10" Medium: $55.00
6" Deep Tissue: $45.00
3 Wheel Pack for $99.00
The 3 Problems with Other Back Pain Relief Solutions:

1. They are expensive. Chiropractors are a good option, but feeling like you have to see one every week costs far more in time and money than the Chirp Wheel. In fact, the company has a network of over 3,000 Chiropractors and Physical Therapists that recommend the wheel, especially in-between visits.

2. They don't fit where you need them to. Foam rollers can't put the pressure in the right places to really relieve the pain. The Chirp Wheel has a Patent Pending Spinal Canal™ and Compression Sensitive™ padding to ensure comfort and relief.

3. They don't store well. Inversion tables take up half the living room, and it's impossible to fit a foam roller in your bag when you are on the go. The Chirp Wheel is lightweight and travels easy!

A Difference You Can Feel
Relaxing 4-way stretch with their patented Spinal Canal™
Deep tissue massage with our ergonomic design
Lasting relief with only 5 minutes of rolling out
Sleep better by relaxing tension in your neck, upper back, and lower back
About The Company
Tate Stock CEO invented the Chirp Wheel+, a back-pain relief wheel. He started Chirp by making yoga wheels in a barn with $400 of sewer pipe, and $50 of yoga mat. He then listed these wheels on Amazon and sold $12k worth in the first two weeks. Tate focused on selling to the yoga market for the first year and a half, and achieved 180K in sales, but saw demand for a similar product that could relieve back pain. This led to the development of the Chirp Wheel+. The Chirp Wheel+ is made out of 100% PVC free injection molding that can hold over 500lbs and is wrapped in compression sensitive padding. The Chirp Wheel+ features a patent-pending spinal canal to relieve pressure along the spine, and is available in three sizes. Tate Stock bootstrapped Plexus Yoga, renamed Chirp, into a startup that projects $40 million in sales this year. Approximately 1 million people have used these wheels for drug-free relief. The Chirp Wheel+ is the only FDA registered Class 1 Medical device of its kind. Unlike foam rollers, the Chirp Wheel fits perfectly between your shoulders and cradles to the spine. It's 5-inch width, and spinal canal is designed to give Chirp's signature, four-way stretch. Over 60% of Chirp's team members are women. Chirp works with over 3,000 physical therapists and chiropractors that use and recommend our product daily, including leading spinal specialists from prestigious Yale University. The Chirp Wheel+ is the highest funded pain relief product in crowdfunding history.
About the Founder: Tate Stock
Tate Stock founded Chirp in 2015 at the age of 23. He grew up on a farm in Pasco, Washington. Prior to developing the Chirp Wheel+, he was an undergraduate student at Brigham Young University in Provo, Utah, and received his degree in economics. Forbes featured him on its prestigious 30 under 30 list, for manufacturing in 2020. In addition to being a young entrepreneur, family is paramount to Tate. He is married with two young sons. As a hobby, Tate is a registered boat captain.