Younger consumers are the most calorie-conscious, suggesting need for calorie labelling as standard, says GlobalData
Over one-third (35%) of global consumers are actively trying to reduce their consumption of calories. Millennials are showing the greatest interest and are more open to the positive health benefits associated with reducing calories, according to GlobalData, a leading data and analytics company.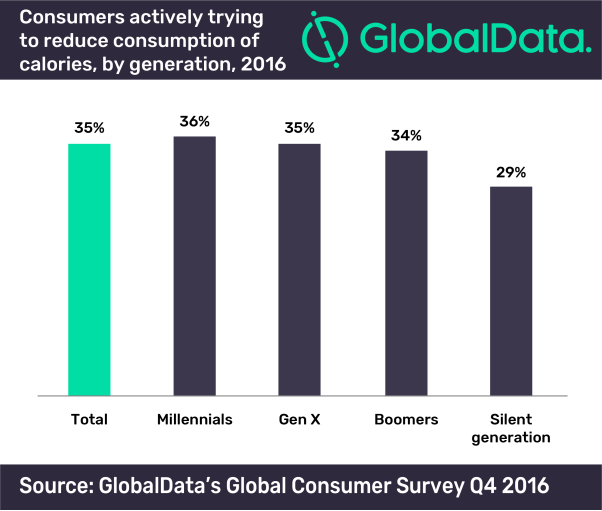 IMAGE FOR PUBLICATION: Please click here for enlarged image
GlobalData's Q4 2016 global consumer survey highlights that motivation to reduce intake appears to fall as age increases, with younger age cohorts displaying the greatest interest in cutting calories. In fact, 36% of millennials are trying to reduce calorie intake, compared with only 29% of the silent generation. Consequently, evidence suggests that younger consumers are more receptive towards calorie reduction and its positive health benefits.
This carries importance as new research from Cambridge University UK suggests that placing calorie counts on menus in food outlets can reduce portion sizes. The results of this research suggest that when provided with calorie information, intake was reduced by one-eighth (12%).
Charles Sissens, Consumer Analyst at GlobalData, comments: "These findings could shape the way food outlets and food/drink packaging operate, with many adopting a more authoritarian approach; packaged food/drink products and indeed restaurants and cafés could increase the presence of calorie labelling, thus indirectly coercing shoppers and diners to choose healthier options and contribute towards the global effort to reduce calorie intake."