Burnbrae Farms: EGG Creations – Recipes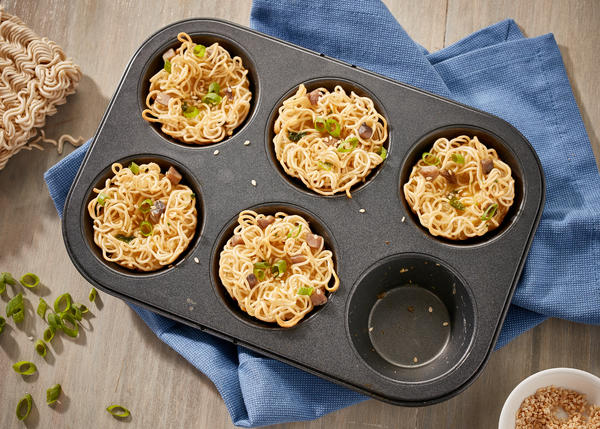 Ramen Egg Cups
PREP TIME: 10 min.
MAKES: 12
INGREDIENTS:
2 x 85g ramen noodles, cooked according to package directions
Egg Creations Whole Eggs Original Mushroom & Spinach
1 tbsp (15 mL) soy sauce
1 tsp (5 mL) hot sauce, plus extra to serve
¼ cup (60 mL) sliced green onions, plus extra to serve
DIRECTIONS:
1. Grease well a 12-cup muffin tin with cooking spray. Preheat oven to 350°F (180°C).
2. Place cooked ramen noodles in a large bowl. Pour over Egg Creations Whole Eggs Original Mushroom & Spinach. Stir to combine. Equally divide noodles into prepared muffin tin, letting excess egg drip back into bowl. Leave a dip in the middle of each noodle "nest" using your hands. Place in the oven and bake 5 min., to set noodles.
3. To remaining Egg Creations Original Mushroom & Spinach add soy sauce, hot sauce and green onions. Divide egg mixture between ramen "nests". Continue to bake in oven until egg has completely set, 10 – 12 min. Remove egg cups from muffin tin, using a butter knife to loosen edges if necessary.
4. Top with extra hot sauce and a sprinkle of extra green onions, if using before serving.
TIPS:
* Use leftover spaghetti noodles instead of ramen noodles.
* Try adding a drop of sesame oil and a sprinkle of sesame seeds to ramen cups.
* Replace green onions with chopped cilantro or chopped fresh basil.