Hey Guys! Happy New Year! Who's ready to kick off 2017 with a fresh and healthy start?! I know I am! Since I am an advocate of active, fit and healthy lifestyles. I wanted to share with you what and the American Heart Association and SUBWAY® are up to! They have created an on-going initiative that will encourage you to add more fruits and vegetables to your diet and better understand the critical health benefits this change can mean. Did you know that people who eat more fruit and vegetables in their diet are more likely to have a reduced risk of chronic diseases. Vegetables provide nutrients vital for health and maintenance of your body and you should never skip out on vegetables with your meals.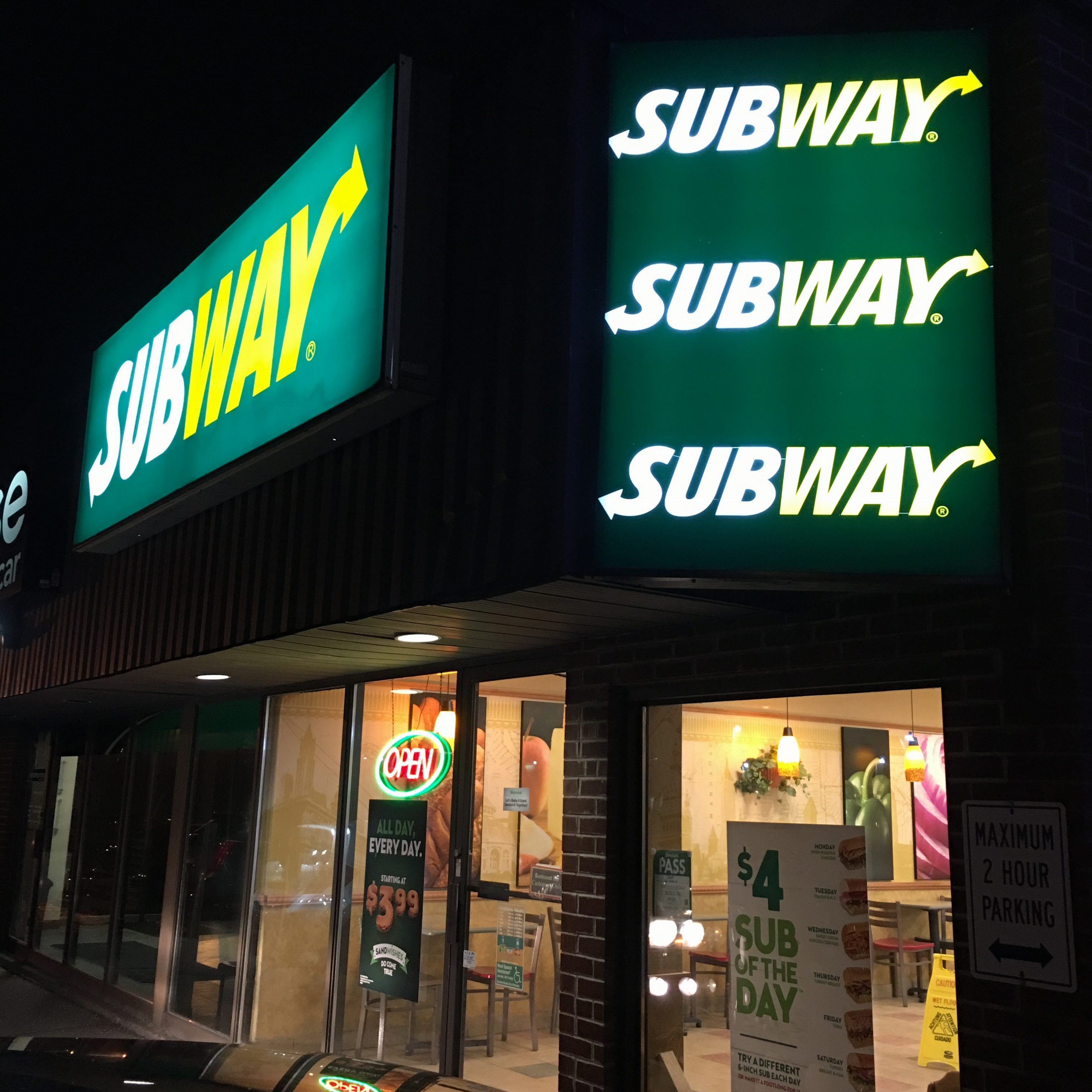 The initiative originally started in 2016. SUBWAY restaurants and the American Heart Association (AHA) teamed up to launch +color. This idea was formed to encourage Americans to add more fruits and vegetables to their diets. Did you know that most people don't get enough fruits and vegetables in their daily diet?!?! It's shocking. I always make sure to have vegetables with every single one of my meals. The prettier and more colorful your plate is the healthier it is for you!
So, that's why in partnership with SUBWAY, the American Heart Association (AHA) launched the initiative called +color, focusing on the positive health impact of fruits and vegetables. The health impact of +color may be simple yet significant: It is estimated that if Americans ate the recommended amounts of fruits and vegetables every day, approximately 39,900 deaths would be prevented from cardiovascular diseases, stroke and diabetes and $7.6 billion in medical costs could be saved annually. As soon as you read those shocking statistics that should be a nice wake up call. So what not make it a goal to eat more vegetables in 2017! After all it's a new year so it should be a new you right?
Did you know that a diet rich in fruits and vegetables has also been shown to reduce risk of stroke, certain types of cancer and risk of death from all causes? That's why the AHA and SUBWAY restaurants are inviting Americans to join in this transformative effort by encouraging everyone to start today.  SUBWAY makes it easy for people to add that extra cup of color, even when they're on the go. You can choose from millions of our handcrafted sandwich combinations to create your own custom sandwich or salad, which can offer up at least two extra servings of vegetables to your diet. Just by adding an extra cup of color to your diet everyday can help improve the health of all Americans.
I went to SUBWAY myself this week and grabbed a chicken salad! It only took a second once I walked in for me to see all of the fresh ingredients. I quickly decide that I wanted a hearty salad with lots of veggies. It's so easy to pick out your vegetables from the visible line up that SUBWAY has! Look how beautiful and colorful my salad was! It was totally packed with nutrients and such an easy way to stay healthy while on the go.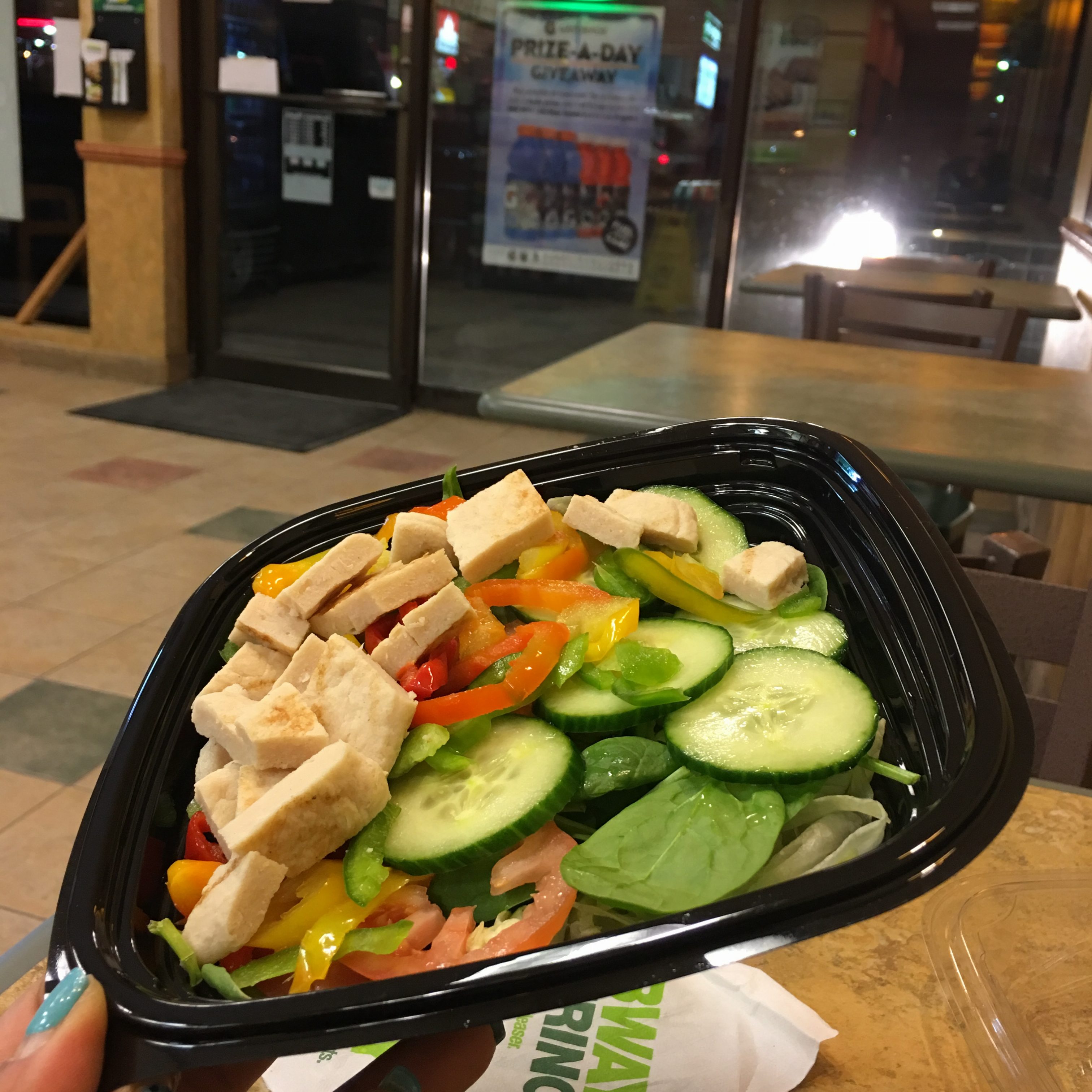 SUBWAY offers 10 varieties of vegetables. This includes cucumbers, spinach, tomato's, green peppers and hot peppers which you can see on my salad. Spinach is one of my favorite green vegetables. There are many health benefits of spinach. It is low in fat and cholesterol, it is high in niacin, zinc, protein, fiber, vitamins A, C, E and K, thiamin, vitamin B6, folate, calcium, iron, magnesium, phosphorus, potassium, copper, and manganese. So what's not to love?!?!  I made sure to add extra spinach. But you don't have to get a salad in order to increase your vegetable intake. Subway has millions of handcrafted sandwich combinations to create your own custom sandwich too!
I really encourage you to visit your local SUBWAY and make your subs colorful each time you go! Don't be afraid to post your images across your social network to raise awareness about +color. Tag @SUBWAY / @OfficialSubway and @American_Heart and make sure to use the #addcolor hashtag!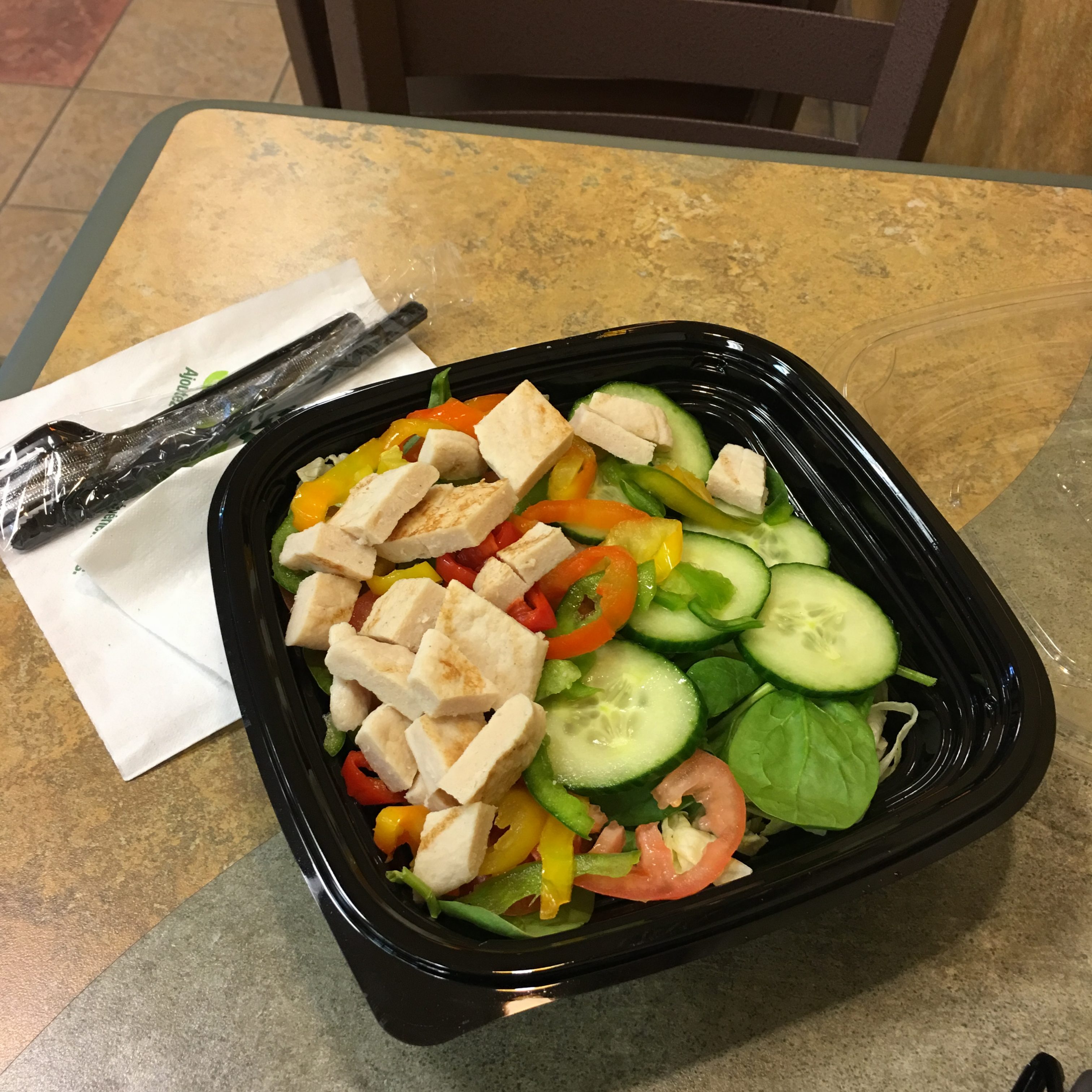 For more information about SUBWAY and the AHA:
Brand Details:
About SUBWAY® restaurants
Guests in 112 countries have easy access to a fresh line-up of vegetables for their made-to-order sandwiches and salads at any of the more than 44,000 franchised locations. The company, founded 50 years-ago by then 17-year-old Fred DeLuca and family-friend Dr. Peter Buck, is still a family-owned business with thousands of dedicated franchisees/entrepreneurs in neighborhoods around the world, providing easy access to vegetables, detailed nutrition, dietary, and healthy lifestyle information. This has been a priority for the SUBWAY® restaurant chain for many years. To learn more, visit www.subway.com. SUBWAY® is a registered trademark of Subway IP Inc.
About the American Heart Association:
The American Heart Association and the American Stroke Association are devoted to saving people from heart disease and stroke – the two leading causes of death in the world. We team with millions of volunteers to fund innovative research, fight for stronger public health policies, and provide lifesaving tools and information to prevent and treat these diseases. The Dallas-based American Heart Association is the nation's oldest and largest voluntary organization dedicated to fighting heart disease and stroke
SUBWAY Channels:
http://www.subway.com/en-us
http://www.facebook.com/subway
https://www.instagram.com/subway/
@OfficialSUBWAY on Snapchat
AHA Channels:
https://www.facebook.com/AmericanHeart/
https://twitter.com/american_heart?lang=en
https://www.instagram.com/american_heart/