CHICKEN TORTILLA KOREAN DAIKON SOUP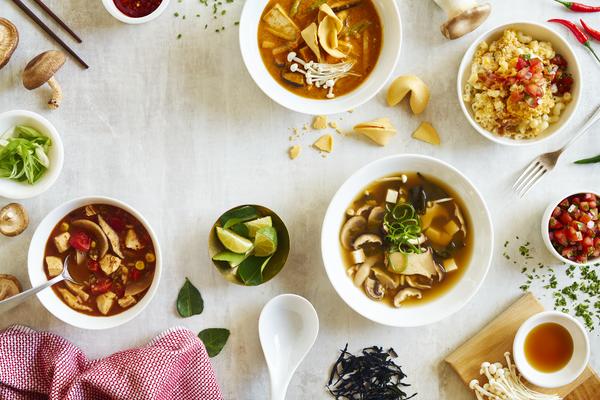 Downloadable recipe:
cantina-2-0_recipes_final-chicken-tortilla-daikon-soup
CHICKEN TORTILLA KOREAN DAIKON SOUP
Prep time: 10 min
Cook time: 20 min
Total time: 30 min
Serves: 4
By: Chef Antonio Park
Ingredients:
1 pkg (150 g) CAMPBELL'S® Soup Kit - Chicken Tortilla
1 carton (900 mL) CAMPBELL'S® Ready to Use Chicken Broth
1 boneless skinless chicken breast, cubed
1 can (796 mL) diced tomatoes
1 large red bell pepper, diced
1 large piece of dried sea kelp
1 ¼ cups (310 mL) Korean radish (daikon), thinly sliced
½ cup (125 mL) shiitake mushrooms, sliced
1 clove garlic, minced
1 large green onion, chopped
1 tbsp (15  mL) Korean soy sauce
Salt and pepper to taste
Directions:
Add soup kit, broth, chicken, can of diced tomatoes, red bell pepper and sea kelp to a large pot. Stir. Bring to a boil.
Add Korean radish (daikon), and shiitake mushroom to boiling soup.
Reduce heat to low and simmer covered for 20 minutes until chicken is cooked through.
Add garlic, green onion and soy sauce toward the end of cooking.
Season with salt and pepper.
Recipe Tip:
It is important to thinly slice Korean radish (daikon).
Garnish with fresh pecorino or parmesan cheese and sesame oil.