Greatist Launches a Movement To Help Expose Unhealthy Thinking About How To Get Healthy - Join the Movement!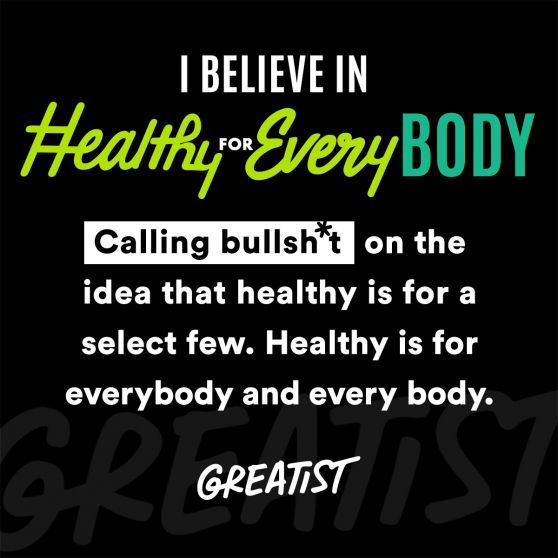 "Healthy" has been co-opted by celebrities and 1-percenter lifestyle gurus as entertainment, and it's become about expensive athleisure and matcha detoxes instead of what's real for everybody. Greatist, a fast-growing health media company attracting eight to ten million millennials monthly, announced today that they have launched #HealthyForEveryBODY.
This program is aimed at exposing unhealthy thinking about how to get healthy, replacing it with confidence-boosting mantras. Greatist is encouraging consumers to stand with them as they say, "F*ck trying to be perfect. Just try." There are more than twelve different social graphics that debunk unhealthy attitudes in the same honest, provocative, and humorous voice that has made Greatist so popular. Here's how you can stand with Greatist and show your commitment to real health for the 99 percent:
Share one of the pre-designed mantras on social media using #HealthyForEveryBody
Discover how healthier happens when you have the confidence to know healthy isn't about trying to be perfect or following fads, it's about trying.
"We ground everything we do in ideas that are accessible to real people—and we speak to millennial men and women like me who want to get healthy, but still have a life and friends," said Derek Flanzraich, Founder and CEO of Greatist. "The idea is that health and fitness can be a part of living a better, longer life but doesn't have to be the whole point."
Greatist provides realistic, achievable ways to get "healthyish" across content categories including healthy cooking, exercise, and personal journeys. Greatist has approximately 40-thousand people using their chart-topping Facebook Bot, and early next year will be releasing an app dedicated to pairing up like-minded groups of people who share in a similar health journey.
To my clients and my readers seeking a healthier lifestyle: find what works for you! You don't have to go to the gym every single day. You don't have to cross the finish line first. Would it be nice to win? Of course! But start with the small changes to get on your own path to healthy. Just get to the gym. Just cross the finish line. We can do this together! Let's team up to make decision based on what works for you. Check out some of the programs I offer to get started today: 
http://www.trainitright.com/programs/