I was recently contacted by an amazing young entrepreneur based in Kuala Lumpur Malaysia. The designer has a unique line of active leggings. She asked me if she could send a pair her leggings to me for an honest review. I had a look and of course I had to say yes!
A little bit about the active leggings line: Seni by Fit Rebel is a line of high performance yoga leggings that merge traditional art with trendy athleisure. The leggings feature vibrant hand-painted designs by traditional batik artists of Malaysia. Batik is a textile art of Malaysia which combines liquid wax and fabric dye to create art on fabric. This traditional painting technique dates as far back as the 13th century.
The premise behind this unique line of artistically inspired leggings is to help motivate women to workout and live an active lifestyle. This was a direct result of the feedback received from research, which indicates that having fun and attractive activewear motivates women to go for their next workout and to enjoy their workouts more. As an advocate for healthy living, I, Nadia Hasbi, Founder and CEO of fitrebel.com decided to embark on a mission to create the world's most beautiful activewear to inspire women all over the world to start or maintain their personal fitness journeys.
The designer was recently invited by TEDx to talk about her journey on why and how I decided to create this line of unique leggings. (She was previously from the corporate world with no experience in fashion or design. A series of events has lead her to leave all of that behind to embark on this new adventure. People seem to find her story inspiring and I have been invited to speak on several platforms, TEDx included). If you have the time and are curious, you can watch the video here: https://youtu.be/j0MSYpkBlaU
The design I chose to order and review was the Send Fighting Fish design.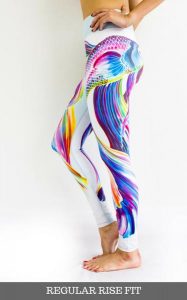 They are a regular rise fit and a unique design that I normally wouldn't wear. All of the patterns form the collection are unique and beautiful if thats your thing. Im not so much into patterns but these leggings have grown on me! If you're looking for comfortable leggings with unique patterns that you won't find anywhere else give these a try! The colours and patterns are so unique and stunning!