GOING TO A MED SPA OR A DOCTOR'S OFFICE FOR A PEEL IS SO PASSE
WHY NOT HAVE ONE CUSTOMIZED AND DELIVERED TO YOUR DOOR ?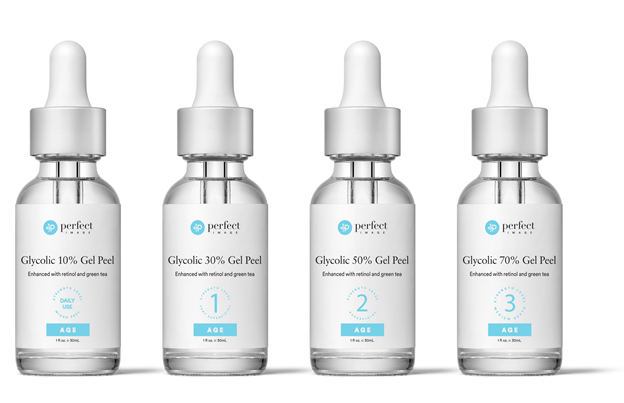 Peels are one of the most effective and least invasive paths to better skin. Specially formulated with gentle acids and other pure ingredients, they clarify and beautify by removing dead surface layers, enabling skin to heal and renew itself from within. In order to receive peels that are truly effective, skin care devotees must go to a physician's office or med-spa to receive a peel with sufficient strength to deliver maximum results. With approximately $36.5 million Americans unemployed paying $125.00 or more a month for an in-office peel is a luxury most cannot afford. In addition, due to COVID there are many who do not feel comfortable having a procedure performed that entails being inside with no mask on with an aesthetician inches away from their face.
Although a plethora of skincare companies offer versions of peels in a pad form, most offer low concentrations of the active formulas and high PH's that render the formulas less effective. What's more, the method of applying these "peels" is not the same as what is done in a doctor's office or med spa. Perfect Image is one of the first beauty companies, whose products were formulated by a chemist, to deliver custom peels to your doorstep that provide the same efficacy as in-office peels at a mere fraction of the price.
Cost: $29.95 for 30 ML or approximately 15-30 peel applications. Average use is 1-2 ML per treatment.
How does the process work? If customers have had professional peels performed and they are familiar with the strength used on their skin they can choose from 10%, 30% or 50% glycolic peels. If the process is new to them, or they have questions, they can chat online with a licensed aesthetician who they can send pictures to so that the aesthetician can recommend the strength best suited to their skin, as well as suggest pre-peel and post-peel products.
The product application- 99% of the peels that are available on the market come in a pad form and are meant to be swiped across the face.
Perfect Images does offer peels in a pad form as well, which are just as effective as their bottled formula. They are pads that are pre-soaked with the liquid gel peel. Just because they are in pad form, does not mean it lessens the effectiveness. The biggest difference from Perfect Image's version compared to those on the market is the concentration of acid (most are 10% or lower concentration), and a higher pH typically 3.5 and higher which dilutes the formula. Perfect Image has a lower PH range from 2-2.5pH. to keep the integrity of the active ingredients.
Perfect Image products come in a liquid gel form in a "tincture" bottle and are left on the face for a maximum of 1 minute if it's your first treatment. Then, users typically slowly increase the contact time on the skin and or number of layers on subsequent treatments. When layering the peel, it can be as effective or comparable to a peel in a spa or treatment center. Layers refer to how many times you wipe the peel over the same area in a single treatment. With each wipe, the peel intensifies and penetrates the skin a little deeper until neutralized or reaches a certain depth based on pH and skin type. Layering is only recommended for those who are comfortable with peels or have more experience, and have used the peel several times without complications. You can continue layering up to 2-5 layers depending on peel and skin tolerance. Perfect Image always recommends that its customers build up a tolerance before layering.
This is how peels are applied professionally. The products come with clear instructions to spot test on a small patch of skin such as under the chin or an area close to the treatment area, before applying to the face. Once it is determined that the skin reacts well to the product, it can be used on the face, shoulders, decollete, and tops of the hands.
Benefits:
Reduces the appearance of wrinkles and fine lines
Improves skin hydration
Improves Scars
Reduces Pore Size
Helps to Reduce Acne
Reduces Hyperpigmentation
Stimulates collagen development for plumper, firmer skin
Increases cellular turnover for smoother skin
Each product is packed with natural plant/ botanical extracts.
The "beauty" of Perfect Image Products is how they are made
Paraben Free
Gluten Free
Phalate Free
Cruelty Free
Made in The USA
*** 70% peel is available for professional purchase only